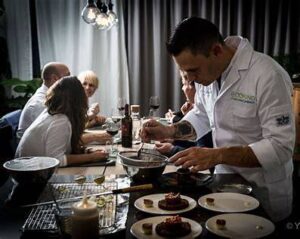 A Day in the Life of a Private Chef… an interview with…
Chef Adam Mali, Private Chef to Family X.
by Denise M. Zanchelli
Perhaps you've thought of or even dreamed of becoming a Private Chef and think to yourself that it would be a walk in the park. Cooking for a family…. I mean…how hard is it to cook for a single family? Well, I have spoken to numerous Private Chefs and recently interviewed Chef Mali which motivated my writing this piece. The one consistent thread in all conversations is clear – the only certainty of the position – is uncertainty!
The following itinerary takes a look at an hour-by-hour day of a Private Chef …. with some fun commentary along the way….
6:00am — Wake and take a few moments to enjoy the peace, read the newspaper, and enjoy a cup of coffee (essential!)
8:00am — Write the menus and ingredient lists and plan all the ordering. I write the menus for two weeks out. Menus are for lunch, dinner, and snacks. Ordering is tricky; if the orders come in correct – great, but if the wrong items are shipped, then the fun starts. One needs to figure out how and where to get the correct ingredients. This could mean special ordering and overnighting ingredients. Knowing where all the custom stores are, having great local connections and knowing who can source those hard-to-get ingredients are invaluable. Family dietary restrictions and preferences need to be accounted for.
Family X (as they will be called) has noted sugar restrictions. They prefer exceptionally low carbohydrates and very specific food preferences. They hate tofu. I was told on Wednesday that they cannot have any strong spices and then Thursday was told that the food is not spicy enough. Not uncommon are contradictory requests – "I don't eat pork," I'll hear but then a week later, "can you add bacon to that dish next time?"
Keys to success in being a Private Chef:
Daily reminder that Family X are the experts on their food —-and the proper preparation of their food. Their food preferences could be completely different than how dishes are classically prepared or how you may have been trained. Having a sense of humor and NO EGO are essential!!! It's a balancing act. Here's an example: You could get directions to keep butter out of site and out of dishes and then you will get asked where the butter is. Remember to rise above the conflicting requests. It becomes easier once you get to know the Family as in all relationships trust is earned and built over time. When the plate comes back clean and that particular dish is requested again, you know you've done your job well.
9:00am — Visit a few grocery stores. Whole Foods is a staple for produce. Make a run to the local fish monger and farmer's market. It depends on the day and the menu but knowing the daily farmer's markets and hours and locations of all stores is key! Sysco trucks don't show up at residence's back doors!
10:00ish —Arrive at the estate home. Assess how the kitchen was left the night before. Ensure kitchen is clean and all kitchen mise en place is in order. Quickly create the AM Snack. Then start the prep for lunch as lunch needs to go out at 12:30 for the children. The children are fed first and then the adults. Keep laser focus to ensure food allergies for the children are safeguarded. Sometimes, lunch goes out and no one is there so you have to adjust, keeping in mind 100% of the prep, production and service is up to just you. If there is a delay, you work hard to ensure it doesn't delay the dinner service.
AM Snack – Spiced roasted chickpeas
12:30pm — Service for the children's lunch.
12:45/1:00 — Lunch for adults could be served in the office or dining room.
Lunch: Ahi tuna, roasted yams, brussels sprouts, and sparkling water.
1:30pm — Once lunch is set, create the PM Snack.
PM Snack: gluten free flatbread, mozzarella, roasted artichokes and chili flakes.
2:00pm — Clean the lunch dishes and move into prep for dinner for a 7:00 dinner time. The children eat first and are served restaurant style. There is always a main course with multiple components – typically a protein, abundant vegetables with a lot of leafy greens. I've become highly skilled with the use of alternatives, quinoa, bulger and so much more. Yet – with any new ingredients it is critical to first clear with them with the Family.
7:00pm — Roll with the punches to get the children's meals out
7:00/7:30 — Parents eat next. In addition to dinner, prepare two diverse types of dessert, taking into account one sugar-free option. Tonight, there was no wine paired with dinner, but some nights wines and/or cocktails are paired to accompany the meal.
Dinner: Roasted local halibut, yuzu ginger miso butter, herbed couscous, charred blue lake beans.
Dessert: Healthy pumpkin butterscotch trifle.
8:30pm — After serving the courses, ensure the dishes are stacked in the dishwasher, clean the kitchen, label all items in the refrigerator, and ensure refrigerator is cleaned at all times.
9:00ish — Ensure the Family is set, meals are completed, and kitchen fully cleaned, then you can leave for the day.
Chef reports directly to the Estate Manager so there are daily calls to keep updated on the Mr. and Mrs.'s schedules. An army of Nannies and a Housekeeper are included on staff.  Chef noted he has worked at some of the highest end hotels and clubs in the country and the change to becoming a private chef was similar in some ways and different in others. At the private clubs, he felt like he was a private chef to 1,000+ members – yet he went from prepping banquet food for 1,500 to passing out stuffed figs at a private lunch reception within a $58 million dollar mansion (one of three the family owns). There was a learning curve in etiquette, culture, professional, confidential and security expectations. He reminds himself that he is in someone's private home but treats them like VIP guests. He flies on the private jet to accompany them to a few of their secondary homes and other exotic vacation locations. He is exceptionally well compensated and feels every day that he is using his culinary skills to the fullest potential. Hours are long, requests are unique and the only certainty to the day is uncertainty…and Chef ended our conversation with noting, "I can't imagine a life more fulfilling!"
And below are some inspiring dishes that were served …
Thank you, Chef, for allowing us the opportunity to capture you in print. We appreciate your insight and valuable contributions to anyone who wishes to know more or may even be considering becoming a Private Chef in the future! Chef Adam is an inspiration to chefs who have transitioned into becoming a Private Chef.
And I was compelled to ask what tomorrow's Menu looked like – Chef gave me a sneak peek!
Tomorrow's Menu
AM – Snack
Fresh Albacore tuna salad with multi-grain crackers
Lunch
Vietnamese chicken pho-grilled chicken, rice vermicelli, Rau Ram, crispy shallots, roasted peanuts, shredded carrots, mint, bean sprouts
PM – Snack
Guacamole with baked pita chips Dinner Turkey Bolognese, whole wheat tagliatelle pasta, Parmigiana Reggiano, basil, roasted vegetables. Salad of green apple, dandelion, walnut vinaigrette, point Reyes blue cheese
Dessert
Coconut almond and blueberry cake