Executive Chef/Director Food and Beverage Country Club of Detriot
http://ccofd.com
by David Meyers & Bill Schulz, MCM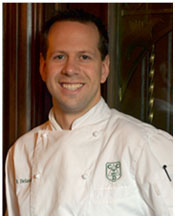 Recently Certified Master Chef, Brian Beland, CMC, shared his perspectives on professional development; team management and the required elements necessary to build a "top-tier" club food service culture under his supervision as Executive Chef/Director of Food and Beverage of the Country Club of Detroit.
Brian – You are an actively engaged culinary professional: a proud father and dedicated husband with high character and focus.  As fellow culinarians we are moved by your dedication and your many achievements. Since 2010 you have been accredited as a Certified Master Chef; represented the ACF North East Region as "Chef of the Year," and competed as a member of the Michigan Culinary Olympic Team earning an individual Gold Medal in Erfort, Germany. Wow…very impressive and you are just getting started!
Q – You are a fierce yet composed competitor who is highly respected by your peers.  How has culinary competitions helped shape your career while at the same time benefiting your clubs culinary program?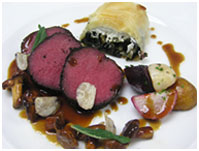 A – One's willingness to compete will make any culinary professional better both technically and as a person.  Competitions are extremely important to the development of young culinarians working alongside industry veterans.
For the young cook it is a great way to hone technical skills, refine organization abilities, enhance one's demeanor to handle pressure, garner and interpret critical feedback from other accomplished professionals along with building a network with other dedicated professionals just to name a few of the advantages.  Beyond broadening a cook's competencies it keeps you humble and the good part is you are never too old to get started.
For many veteran competing chefs it is important they remain active in competitions not only to stay current in their craft but also to share and mentor other competitors. Ultimately you can advance to the status as a certified culinary judge.  It can help a seasoned chef remain current in knowing the food trends of today.  Competing also generates opportunities to give back sharing experiences and keeping the passion of our industry and craft alive.  Competing gives a Chef a broader identity in industry, a "Brand" of sorts which enhances the process of recruiting and creating a dynamic culinary workplace environment.
Q – Club members enjoy knowing their chef.  Many Club chefs are a bit trepid about visiting member dining areas.  What has been successful for you? 
A – One of the pleasures of being a club chef is the ability to interact with your membership.  I look at it as being a part of their club dining experience.  As time allows I make it my business to be visible to the membership walking the dining rooms and sharing greetings at each table.  I always encourage member comments and welcome feedback about their experience or ideas on what they would like to see with the club food and service.  Getting that insight helps influence future menu direction as well as building great member relations.
Being the "Face" of culinary operation also garners the respect your kitchen deserves.  I always get my cooks involved in manning action stations during receptions, buffets and special events.  Moving the kitchen in front of the guest and having cooks preparing a la minute, fresh hot or cold offerings creates a buzz within the club.  Our membership wants to feel that they are special. By having periodic interactions with the chef and culinary team is welcomed by our membership while enhancing their overall confidence in the club's culinary operation.
Q – You recently accepted the Position of Food & Beverage Director with your club.  How has your culinary management experience aided that transition and what are few insights to your first season's success? 
A – I am enjoying my increased responsibilities directing the entire club's Food & Beverage Services.  Quite frankly I initially felt a bit unsettled in the role particularly understanding my greatest strengths and comfort was found running culinary operations in the Heart of the house.  A position of this scope would be challenging for any dedicated F&B professional.  It immediately stretched me, broadening my understanding of the varying dynamics of attentive service and the importance of managing first impressions.  I quickly understood the importance of effective communications and building a cohesive service culture supported by an engaged and well-trained team.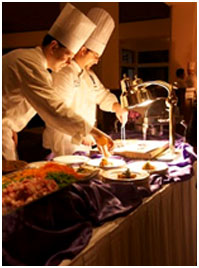 Consistently delivering quality member dining experiences was the ultimate goal.   Achieving this in a traditional club setting like CCD is greatly influenced by personnel, particularly their ability to maintain respectful relationships all levels throughout the club along with consistently producing exceptional cuisine.
Once direction was determined, ultimate success would be a direct result of enhanced communications and building chemistry between FOH and BOH teams.  Immediately I learned this was an ongoing process, one requiring regular reiterations of the goals enforced by upholding all parties accountable.
Our first step was to create a better understanding of each team members' role including the challenges inherent in each position.  The goal was to get each team member to step outside their comfort zone to better understand the roles of the other employee. This included the importance of collaboration in helping others succeed and making the workplace more enjoyable.  Changing one department's paradigm of the others was a process.
On one side of the equation the Culinary department is comprised of mostly young aspiring chefs currently in school or recent graduates who are committed to honing their cooking skills while viewing the position as a career stepping stone.  Most are dedicated, passionate and work diligently to uphold high culinary standards while at times youthful in their actions.
The Service Team is comprised of a number of loyal individuals with varying personal goals while not a career committed or as perceived by the culinary team.
Through a series of meetings the first step was to raise standards on both sides creating a sense of equal importance their role's play in achieve the teams' common goal of Member Satisfaction!   We immediately addressed and removed unnecessary banter, finger-pointing and excuses that undermined the common objective of creating exceptional member experiences.  Once mutually agreeing in principle, we address the other weaknesses starting with communications, equipment and human resource issues.  The team committed to resolve these issues.  With this inclusive approach, BOH and FOH thoughtfully exchanged ideas toward improving performance.  A number of solutions were discussed ranging from tangible needs to the organization approaches.  Steadily attitudes turned favorable between teams and individuals performance also improved.   A new Spirit was forged in the process!
As a result service stations and kitchen areas were reorganized; new equipment and service items that the team would be proud of were purchased; the organization structure and training methods were also refined and finally, management held itself to a higher standard becoming more proactive in maintaining all necessary accountabilities of personnel.  And it works!
We have made great strides thus far.  Working in an environment filled with positive attitudes and goodwill is refreshing.  In the end this is all done for the purpose of creating the complete dining experience – the triad of great food, beverage and service – for the benefit of our club members.
Editor's Comments – The power of Action and Attitude coupled with Accountability demands result!  It's barely work when a team is united!  If you are not having fun, define what success looks like and steps of getting there, then be resolved to realize results. 
Stay tuned.