Executive Chef at San Antonio Country Club, San Antonio, Texas
by Bill Schulz, MCM & David Meyers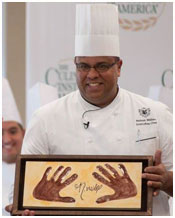 It is very gratifying to know of a chef who is not only a master technician of his trade; but is also a stellar presence in his community. Executive Chef Nelson Millan is one of those rare individuals who manages a top-notch kitchen while finding time to guide and mentor local culinary students in the San Antonio area, the site of the new Culinary Institute of America Southwest Campus. Nelson began his journey by earning an Associate Degree in Culinary Arts at the Hotel and Tourism School of Puerto Rico in 1992. Since that time it has been an upward climb to the top of his profession. Before finding a home at the San Antonio Country Club, Chef Millan worked at several prestigious establishments including stints with the Sea Island Company; Ocean Reef Club and Hotel Del Coronado. It was a pleasure speaking with Chef Millan and getting his viewpoints on a few key subjects.
Nelson – Nelson, it must have been a great honor for you to be the key note speaker at the graduating class of the first Latin Cuisines Certificate Program at the new Culinary Institute of America Southwest Campus in San Antonio, TX. In your speech, I thought you had a powerful message for the graduates when you said, "you represent a new breed of powerful culinarians who will open windows of great opportunities for yourself and those you will work with on the global stage. This experience is guaranteed to put you a step ahead of the curve in the food world." Please elaborate on the meaning of what you told them?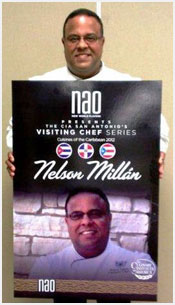 A – Yes, it was a great honor to participate in the very first graduation for the LCCP of the CIA. It is the first time that a major culinary institution like the CIA put a serious effort on building a full program on cuisines of Latin America, until now the options were just a day class on one of the countries. The CIA is making a true effort to keep it as authentic as possible bringing guest chefs with their foreign products, technics, idiosyncrasy and even music of all these countries. Having this opportunity in "one stop shop" is a first in America's culinary education; otherwise you had to have the money and time to visit all of these countries which was not a realistic option. It is exciting to see students from different backgrounds showing interest and enrolling on these types of programs. "Knowledge is power" someone said and this group of graduates now have under their belt a wealth of knowledge about cuisines that are starting to have a strong presence in the global food scenario and in North America. This is just the tip of a much bigger iceberg.
Q – Do you employ students in your operation? If so, how do you mentor and teach them?
A – Yes we employ students; we just got certified by the CIA as an externship site a year and a half ago, and we have had 4 interns with us ever since. We make sure that they are rotated throughout all the stations; the pastry shop, a la cart outlets and banquets, including the purchasing and catering/social events offices as well, so at the end of their 600 hours, they have a full spectrum of the food operation, from conception and sales of the events to the order, processing and execution of the food products.
Q – What do you try to instill in young culinarians that work for you?
A – We instill work ethics, culinary and life skills, also respect for co-workers and a very close relationship with the food products. We enforce fairness, honesty and integrity at all times as part of our core values. Punctuality and professional grooming standards are a must. Here at the San Antonio Country Club we make a true effort to live the daily discipline of becoming the best human being possible as well as the best professionals we can be. We offer and promote a safe learning environment by setting higher personal standards for our self-first and this will allows us to meet or exceed our members and guest standards by natural default.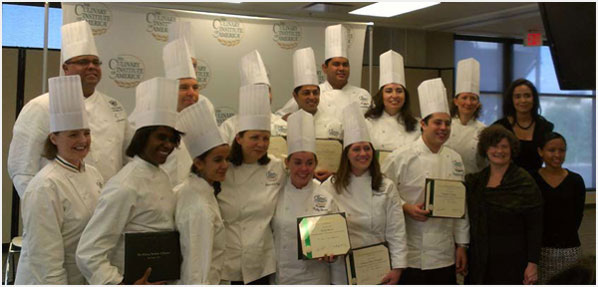 Q –During your career you have traveled the world. Is there any one favorite cuisine that you enjoy cooking more than others? If so why do you like it?
A – One My cuisines preferences have shifted and matured as I grew up and visited the multiple countries I have been blessed to visit, but if I have to pick one, I can't help the fact that I was born in the beautiful island of Puerto Rico and Latin Caribbean food is what I grew up with. This is the food that I find myself craving often and asking my wife (which is a great cook as well) to cook it for me; plus every time I see the opportunity to include a technic or product in my menus I do and the audience find them surprisingly interesting.
Q –What is the most difficult challenge for you being a Club Chef?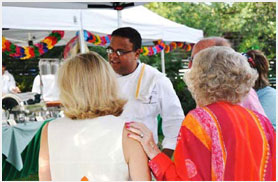 A – The simple fact of the clubs being located in different regions of our Nation is a challenge on its own. You have to learn/find what the staples of the regions are and respect those before you make any move or changes. Then add to that, the age-spectrum of the demographics, usually from 5 to 85 years, plus the fact that food is a very personal aspect from one individual to another. Finding the right food notes to play that will please them all without having a 2,000 items to maintain on inventory is in my opinion the major challenge for a Club Chef.
Q – San Antonio CC is an old-line traditional Club. Are the members receptive to changes and new menu items? What have you learned being at the Club?
A – Like I mentioned before, we have the range of ages and, this goes hand in hand with the food that they prefer. I have learned that the lunch a la carte menu has to stay as traditional as possible with some traditional daily specials to keep it refreshed for the clientele that has more "accumulated youth". On the other hand, the a la carte dinner and vintners diners menus allow us to be more adventurous on ingredients, technics and weekly specials to keep it enticing for the ones that are on the way to "accumulate youth"….halfway there. Then for the restaurant by the pool we target the menus to the ones that simply have youth (not accumulated yet). So the key to our success is to flex to the demographics throughout the venues of the club and times that they prefer to visit.
Q – Do you work with a Food & Beverage, Dining or House Committee at your Club? If so, how does it work with you?
A – It works phenomenally; I have been fortunate to work with the best food committee that there is. All of the feedback that they are able to provide is invaluable to me. I find the not so good of a feedbacks to be the most valuable and positive ones; although the positive ones always re-assure us that we are on the right path. They all offer one great thing which is the opportunity to improve what we do on a daily basis in order to better serve our members. If I did not have the weekly and monthly committee feedback and guidance, I would be lost looking in my "crystal ball" trying to find out how we are doing on servicing and pleasing our members. At the end of the day that is our ultimate goal and we are all part of it.
Q – What are the food trends that you are noticing within your membership?
A –Ever since I got here, about two and a half years ago, I have noticed a shift on command at the Club. The generation that is half way there to "accumulate youth" has been ruling in many of the menu decisions we have been making lately. Testimony of this is the Food Committee Chairman Kathryn Dehlinger plus the second woman president on the history of The Club, Sally Helland, are some of the youngest I have ever seen or worked with; so still being cautious and "strategically correct" we have been able to make significant changes introducing a more global fare than ever in the history of The Club.
Q –What words of wisdom do you have for other Club Chef's?
A – Sharpening yourself as a person and as a professional, your team and your tools is a constant, do not neglect either of them….this is where the balance is. Do not chase money or glory, just humbly put your head down and do what is expected from you and then some; Be grateful for what you have and remember that you are in the service industry…it is never about you, it is always about your team and the members, you are here to serve, please do it gracefully and from the heart. Be part of something bigger than yourself, stay integrate and honest at all times and I guarantee you that one fine day success will find you.
Chef Nelson Millan is the right chef in the right situation; it is a good fit for him. He caters to the members of the San Antonio Country Club by melding his Latin influences with the Mexican and Texan cuisines that are inherent to the area. This combination has created a very satisfied membership as he and his excited and motivated culinary teams are eager to serve.
Thank you Chef Millan for allowing us the opportunity to capture you in print. Wishing you continued success in your career.
Editor's Comments – An amazing perspective from deep in the heart of Texas. Inspiring!  
Stay tuned.