Executive Chef at Naples Sailing & Yacht Club in Naples, Florida
by Bill Schulz, MCM & David Meyers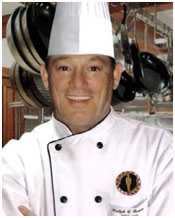 In this issue we are featuring Ralph Feraco, CEC, AAC the Executive Chef at the Naples Sailing & Yacht Club, Naples, FL. Chef Feraco has allowed us to probe deep as he addresses various questions during our interview with him. We especially liked how Chef Feraco handles the clubs staff meal using the talents and various nationalities of his staff. Not only is he pleasing the clubs staff, he is showcasing his cooks and making them feel good about what they create and were they came from. We hope you will enjoy what Chef Feraco has to say.
Ralph, how and why did you end up working in private clubs?
A – I have worked and cooked in the private club industry for 25 years. I like the stability and the benefits that the club life offers. I also like the opportunity to really get to know the membership. I am a people person and the biggest pleasure I get from cooking is not executing a creative meal but rather giving my members a great experience.
Q – Tell us about a few of the food related events and programs that you have initiated at your club? Do you have a "Farm to Table" program?
A – We have done various cooking classes for the ladies but this year we did a hands-on cooking class right in the kitchen. We had a group of eight ladies. We started with knife skills then progressed to making different types of pasta with various sauces. When it came time to making the pasta there was flour everywhere and ladies had so much fun. We also touched on the conscious cuisine concept we have adopted at the club.
In Florida our growing season is the same as our busy season which allows us to get our produce direct from the farm. In our area we have several traditional and hydroponic growers who provide us with great heirloom tomatoes, the very best lettuce mico-greens and many other types of produce. Each week I receive e-mails from the farmers with product availability and my menu revolves around what's best. I just spoke to the farmer from Colusa farms last week and he asked is there anything special I want him to grow for this up and coming season. It is really special to have such a close relationship with the farmers.
Q –Do you employ students in your operation? If so, how do you mentor and teach them?
A – Absolutely! I always enjoy having culinary students in my kitchen and we are lucky in Naples because there are several high schools with quality culinary curriculums. As a result there are many students available to work. Two of my past student employees went on to culinary school and the Greenbrier to continue their culinary education. It makes me proud to see them become a great cooks and someday aspire to an executive chef position.
Q – What are you most proud of in your operation?
A – We are always improving the culinary program and make 90% of our items from scratch. What I am particularly proud of is the longevity of my culinary team. In addition we have also created the conscious cuisine program and the alfresco dining concept for our members.
Q – One of the most important duties within the club is feeding the employees. What does your employee meal program say about you? How is your employee meal credit determined and what is the per meal allocation?
A – Meal credits what are those? Ha ha! It is always challenging to find the right balance with the employee feeding program. At the NSYC we rotate the staff cooking responsibility around the kitchen because we have a lot of ethnic employees and this gives my kitchen staff a chance to make their countries favorite foods. It gives them a sense of pride and ownership to the staff food as they put their hearts into it. It also gives us the opportunity to taste cuisines from around the world. When temporary staff comes in for parties, they always say our club has the best staff food.
Q – What is the most difficult challenge for you being a Club Chef?
A – In Naples, the clubs are very seasonal and when the off-season hits it's definitely a challenge to get my employees enough hours to keep them around for coming season. On the member side, I learned a long time ago it is impossible to please all members all of the time; there will always be a small segment that are not wowed by the menu, service, temperature, taste etc. However, you take notes and try to accommodate their expectations while maintaining a balanced approach to pleasing the greater member interests.
Q – We all know that food and people's tastes and preference are always evolving. Take Food Network TV and how this has expanded food knowledge. Can you tell us how you perceive how you and the entire food culture have changed?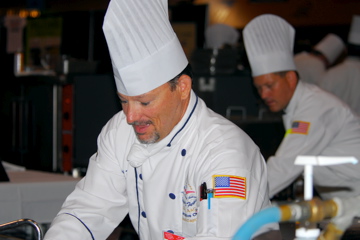 A – I just love it when a member sends back the béarnaise sauce and says that's not béarnaise and when you go out to the dining room to speak to them; they are all looking up béarnaise sauce on the smart phone. It make me chuckle.
I am learning and getting more experienced with gluten free cooking and a conscious cuisine approach on my menus, (meaning Less fat, salt, and under 500 calories). I appreciate and understand more and more the health concerns of the public as it relates to their dining experience. As I grow with the ever changing club business you can't be the same old club chef as in years past. Members are more educated on food and expect higher standards, more creativity and want innovative food. I am always trying to learn something every day, and always ask myself if that the best we can do or can we make that dish better.
Q – Tell us about being a part of the ACF for many years. You have served in many different capacities. Why is this important to you?
A – I have been an ACF member for 24 years and The ACF has been an essential part of my career because it has opened doors to chefs throughout the world. We are one big fraternity, sharing ideas, recipes, cooking techniques and commodity. The ACF helped me hone my skills become a stronger competitor. I was able to compete in the Culinary Olympics in Erfurt, Germany where I was fortunate to earn gold and silver medals.
Certification is the key to being part of the ACF. To get certified it shows that you have training in all areas of culinary arts as you have to pass various test and cook to earn it. To stay certified you need to continue your education in sanitation, nutrition, management and culinary arts; it's not just one and you're done. Being certified shows your employer that you are on top of your game and you are a true culinary professional. More and more establishments are looking for ACF Certified Chefs. I encourage you to set a goal for yourself and get certified. I've been a certified executive chef for over 15 years and inducted into the American Academy of Chefs, 2008; The Academy of Chefs is the Honor Society of the ACF.
Chapter Involvement is also big part of our local ACF Caxambas Chapter in Naples, Our chapter helps raise money to give back to our local culinary programs. This extra money helps the culinary instructors better run their programs. The money is used for culinary competitions, to bring in various chefs for demos and equipment training. The ACFCC offers several scholarships annually to the local students for culinary school to help with their tuition.
Q – Do you have a Food & Beverage, Dining or House Committee at your Club? If so, do you get involved with them? How do you handle negative feedback?
A – Yes, we have quite a few committees at the club and they all have great ideas for the club and it is my job as chef to guide them in a direction the will make us all successful. At times we don't agree with all decisions however we always do what works best, for the larger audience and the objectives of the event. Negative feedback is always taken seriously, we evaluate the feedback and come up with a solution to minimize and turn the negative feedback into positive feedback.
Q – What excites you about cooking in today's world?
A – By the use of today's new age kitchen it makes a chef's job easier and more efficient. Combi ovens, Cvap, Sous vide, Smokers, Pressure Cookers, Blast Chillers that cook and chill, Vacuum Pack machines and other techniques that are far from the classic days of Escoffier. The classics are the most important but these days, new machines make a chef's life a bit easier and more efficient.
Q – What words of wisdom do you have for other Club Chef's?
A – Besides preparing great food, the best advice I can give a club chef is to get out of the kitchen and get to know your members and let them know you. You will have greater success when the members put a face behind the name chef. Chef Ralph is much better than "Whatever the chefs name is."
Chef Ralph Feraco optimizes the all-around chef. He keeps up with the latest trends and equipment in our industry, sees value in the ACF Certification program and is a coach and teacher to young culinarian's encouraging them to enter the profession. Chef Ralph knows how to lead his staff and get the best from them. He also values member relations which makes him the ideal Club chef.
Thank you Chef Feraco for allowing us the opportunity to capture you in print. We appreciate your contributions to share with the industry.