The Country Club, Peper Pike, OH
http://www.thecountryclub.com/
by David Meyers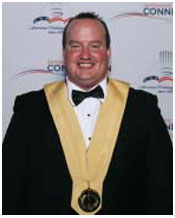 Scott – Foremost, on behalf of all our culinary industry friends, Congratulations on your earning the ACF "Chef of the Year," – 2012. I know the adventure has been both demanding while rewarding for you, Lauren your wife, and all your supporters. Kudos to all that helped you in your remarkable journey.
Q – So, how do you balance keeping your culinary operation current, dynamic and attune with the varying interests within membership?
A – That will require a multipart response built on few core principals. Simply we embrace current trends and respected traditions while enjoying the gift we have been given to cook to a very appreciative membership.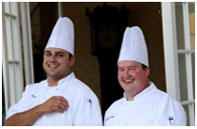 Our motto in the kitchen is to have fun at work, every day, always! With that in mind, we cook simple food consistently done well. We start with great ingredients, season them properly and use proper cooking techniques that are best suited for our desired outcome. To keep things fresh and exciting, we change menus at least every 6 weeks, or with the seasons. We buy local products as often possible, and continue to work with local farmers to grow to our needs.
This industry is constantly evolving and to keep up with the latest trends, my staff and I use a variety of websites and publications. We have also found social media to be a great tool to help stimulate creativity; we frequent Facebook, Twitter and others to stay abreast of the latest and greatest concepts and ideas. Creativity is crucial to our success, as we are always trying to push the envelope. We like to take classical dishes and modernize them with a few of our own twists. We also offer a fair amount of International Cuisine. I find that it gets the team excited to learn about new cultures, and it helps keep our members interested.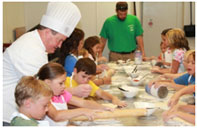 When planning menus for parties and Club events, we like to include interactive stations that get members and guests involved. It is all about creating a memorable experience, and what better way to do that than offering options and letting them be part of the action. One popular station that serves as a great example is a taco bar featuring things like whole snapper, swordfish, adobo chicken or mojo pork loin grilled right in front of them and accompanied by a pickled vegetable station. Some of the more creative stations we have done in the past include things like liquid nitrogen ice cream bars, paella stations, macaroni and cheese/risotto bars and shucked to order oysters.
Molecular gastronomy has a limited place in our menus as I don't feel it is what our members are looking for. We often employ sous vide cooking in both ala carte and banquet operations; I believe it helps with consistency, timing and flavor development. That being said, I expect that my team members know basic cooking techniques first; this helps them understand why we sous vide and what the benefits can be when done right.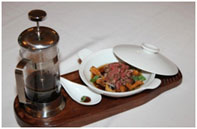 Also, I am a big believer in updating your service ware. In my four years here at the Club we have acquired a great collection of what I refer to as "fun china". We like to use this china with table side services such as pouring of soups and sauces, or flambéed desserts. Other fun finishing touches, like adding smoke under a dome, keeps it entertaining for the guest and the server. Even though we enjoy incorporating these tricks into our menu and are fortunate enough to have the resources to do so, the china still has to be functional and affordable. To keep the presentation of our food up to date, we recently updated our banquet china to a clean and simple look, which involved smaller, lighter plates that should not go out of style.
Q – What does earning the ACF "Chef of the Year," mean to you.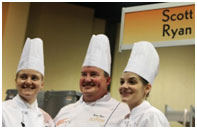 A – It is, without a doubt, one of the most amazing experiences of my life. I am honored to have received such an award and to be part of such a great group of chefs. It took a lot of time, effort and planning to be able to achieve this goal. The amount of support I have received from my peers, management and the members at The Country Club has been humbling to say the least. Also, my culinary team was amazing in allowing me the time and kitchen space to practice with my apprentices, Alyssa and Victoria. I feel that competition is important at all levels, since it allows us the opportunity to hone our craft, share ideas and build relationships with other professionals.
Q – Finally makes The Country Club special to you and how do you measure success?
A – The Country Club has been a great fit for me. The management team is the best I have ever been a part of and the service and culinary teams are top notch. Our commitment to being the best is more than words – we have a great service culture, financially we are afforded a realistic budget to consistently produce excellent cuisine and dining experiences and the proof is in membership usage. Club Membership is extremely supportive of our culinary program and believes that "Country" is the best place to eat in Cleveland.
Editor's Comments –
Chefs having Fun! The altitude an organization can achieve with exceptional attitudes, talent and resources. It's barely work when one is relished their gift.
Stay tuned.