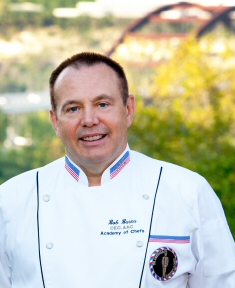 Bob Burns, CEC, AAC has been the Executive Chef at the Austin Country Club since September 2008. Prior to moving to Austin, Chef Burns was the Executive Chef at The Country Club of Columbus (OH) for 15 plus years. He has earned the Certified Executive Chef (CEC) designation from the American Culinary Federation and is recognized as a member of the prestigious American Academy of Chefs (AAC). Chef Burns is a communicator, and prides himself on helping young culinarians grow in their careers.
Q: How did you get started as a Culinarian?
A: I started hunting at an early age and wanted to learn how to cook game, as well as the produce I helped grow in our family garden. My mother was a professional cook and taught me cooking basics when I was young.
Q: Did you always envision yourself as an Executive Chef? If not, what was your desired profession?
A: In school I did well in science and history, but was never certain what I wanted to do for a vocation. In my teens I did construction work, but eventually took a chance at a cooking job. It was then I began to realize that my love of good food could be a viable life-long career. Once I had been in the private club industry for a few years, I started to work toward the goal of leading a team of cooks as the Executive Chef.
Q: Was there a person you consider a mentor or someone who strongly influenced you? What did that person leave with you?
A: My first professionally trained chef mentor was Ike Wessner, an excellent German-American chef. I also worked with two outstanding General Managers – Michael Gianoutsos and Howard Schwartz. I learned a great deal from all of them, especially how to work on a team and get the most from other team members.
Q: Many of us can look back on a lucky break that set the course for their career success. Can you?
A: I had answered an ad for a cook's position at a private club. The General Manager, Michael Gianoutsos interviewed me and realized I didn't know as much as I thought I did, but he admired my enthusiasm and gave me an opportunity anyway. Getting that job was the start of my career in the private club industry which I've enjoyed for over 36 years now.
Q: What do you enjoy doing when you're not at the Club?
A: I enjoy food-oriented activities such as hunting, gardening, and scuba diving. I don't spear fish, but many times when I'm diving I think about how I might cook that grouper or snapper. My wife Evelyn and I enjoy listening to live music, traveling, and dining. I like to cook at home for her, and for our family and friends.
I am the Fundraising Chair for the Texas Chef's Association Austin Chapter. This year, I developed an event to encourage more chefs and culinary students to be involved with the Chapter. Farm to Chef is a student culinary competition to benefit the Sustainable Food Center of Austin and our local ACF Chapter. Three culinary schools are providing two-member teams to create small plates of sustainable food for the public and our judges. Local TV stations and media are involved in the event to help promote it and our Chapter's commitment to community service.
Q: Do you have a personal philosophy, something that guides you?
A: I try to treat others the way I'd like to be treated. I believe in working for. and praying for, the success of others. I strive to be a life-long learner … not only learning about the need to know, but also the nice to know.
Q: What is the biggest challenge facing club chefs today?
A: Anticipating what a diverse club membership will want and being able to fulfill that want before they have to ask for it.
Q: Tell us about your employee meal program at the Club?
A: All ACC employees receive a daily meal. In the employee lunch room, we provide a hot buffet with four items, and a salad bar with sandwich meats. Employees are allowed soft drinks, coffee, tea, milk, and juices, plus some desserts.
Q: How do you support your General Manager and how does he support you?
A: Our General Manager, Nick Smith, has a great deal of private club experience. We have an open communication and spend time planning how to meet or exceed member expectations. He knows our industry and represents our Culinary Team very well to our Board of Directors and Club membership. I always try to have his back and let him know about any issues that may arise. Personally, I know he has my back too.
Q: Do you work with a Food & Beverage or House Committee at the Club? How do you handle member feedback?
A: I attend all House Committee meetings and present up-to-date reports regarding the Culinary Department. I listen to feedback they receive from fellow members. There has been a positive difference in that feedback, since I started at ACC six years ago. We enjoy a great deal of support from the Club membership for our efforts. I take time to get member feedback in the restaurant after the rush. I make a point to promptly answer emails or phone messages. If there is a complaint, I investigate the issue first before responding to the member, so I can offer a solution. Fortunately I get few complaints as we generally accommodate the solution when the event has occurred.
I also encourage member feedback through my Chef's Corner web page on the Club's website, which lists my contact information. I provide links to the Chef's Corner in my Club newsletter articles, Twitter posts, the Club's email blasts of club events, and by using QR codes on printed materials that link to it. On the Chef's Corner, members can access recipes of various dishes we have featured on our menus. I also have a section called "Culinary Matters" with links to current news articles about food, nutrition, and travel, often incorporating these news items with information about our latest menu items or special club events.
Q: What food trends are you experiencing at Austin Country Club?
A: We change our menu quarterly with a seasonal emphasis. We do some local sourcing and present Farm-to-Table buffets for our family night buffets, citing local growers and sources. Latin flavors are popular and we offer dishes from Mexico, Central and South America, and the Caribbean. There is a strong tradition of Southern food in Texas and our menus reflect that. Generally the menus are American Cuisine, which is based on European and Asian flavors and cooking techniques.

"To learn more about the "Farm to Chef Austin" movement, click on the Sustainable Food Center: http://www.sustainablefoodcenter.org/donate/attend-a-fundraiser and/or TCA Facebook: https://www.facebook.com/AustinTCA. Also, Bob invites you to click on his QR code, which is printed on his menu to allow his members to get information about each menu item.
Chef Burns epitomizes the Club Chef, as he is a role model for others to follow. We at David Meyers Associates are proud to feature Chef Robert Burns, CEC, AAC as our newest "Chef At Work."