By Dan Hugelier, CMC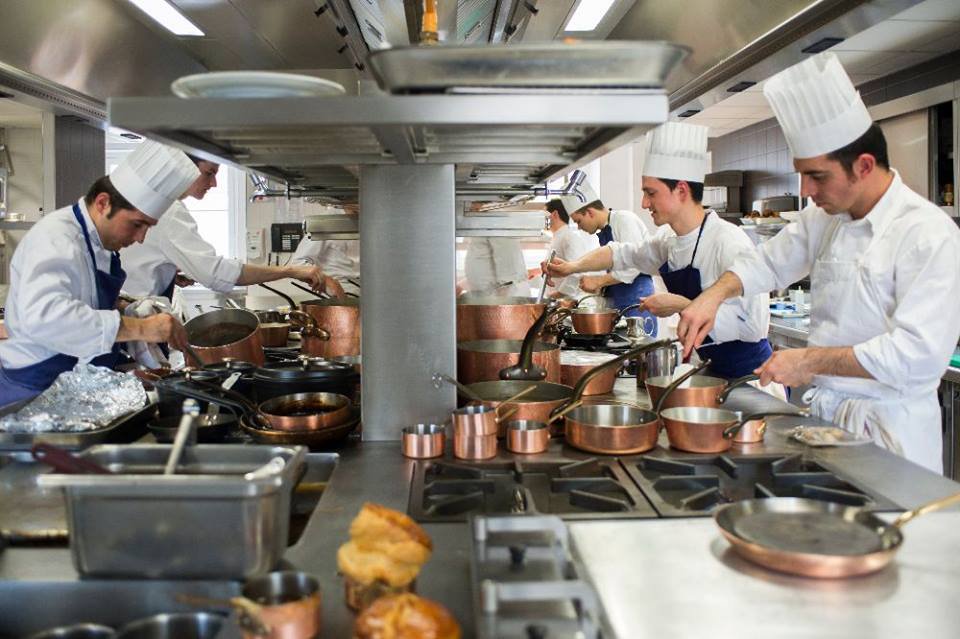 (Dan Hugelier, CMC is our Culinary Specialist working with David Meyers Associates. Dan's impressive culinary career is recognized industry-wide for his many contributions as a culinary professional and coach to many. His career spans decades, leading highly acclaimed culinary programs working in both hotels and Clubs and most recently under his watch as Professor of Culinary Arts of Schoolcraft beginning in 1991. We recently asked Dan to share his experience working in Clubs and here is what he has to say.)
I always felt privileged to work as a Club Chef for many reasons. Clubs provided my family and me a good livelihood and a lifestyle that didn't always include 70 to 80 hour work weeks. Many clubs are closed on Mondays and/or do not serve breakfast on a regular basis which gives relief as compared to other facets of the industry.  Budget funds were available to afford a brigade that allowed me to advance the craft and to maintain facilities with the latest in equipment. I also liked that most clubs include development funds which I took advantage of personally but more importantly helped me develop my staff. Following were a few additional pluses that I found beneficial.
Benefits – In addition to what I believe was being paid a fair salary usually above my counterparts working in hotels and restaurants, clubs offer benefits whereas Restaurants rarely do. I guess I was fortunate but I never worked in a club that did not provide health and life insurance and a 401k.
Product – The ability to work with the best ingredients. Alain DuCasse states on his website, "60% of fine cooking is fine ingredients, 40% is what we do with them in the kitchen." A well run, high-end club operation subsidizes it food budget for affordability of fine ingredients.
Diversity – A club operation is most often multi-unit with fine dining, grill room or bistro, café and pool side operations, special dining rooms and multiple special functions throughout the operating seasons. This allows for a diverse canvas for the serious chef and the opportunity to really develop one's cooking skills. It also allows for a full-service menu system utilizing every precious ingredient without spoilage or waste. Daily specials celebrate the season and keep the inventory moving; if presented as new offerings for the members, they will support your continued creativity with enthusiasm!
Networking – A club operation is a community of wealthy, successful people. Serving them in a club operation allows interaction. I have learned much from the examples set by guests I have served. Four presidents, King Gustaf from Sweden, The Governor's conference, British heads of state, countless Senators and too many celebrities to mention. This level of food and service is not typically found in a restaurant setting. It is inspiring to work among brilliant people and their guests.
Practice – I offered a gourmet dinner or two every month limited to 60 guests during my tenure as chef at the DAC. Escoffier dinners, Food and Wine Appreciation groups, Commandry Bordeaux society, Chaine d' Rotisserie society, etc. This was my time to do advanced study in classical and contemporary cuisine, Master Chef studies, fine sauce work, etc. It is how I advanced my own learning. The members were delighted, every dinner sold out. Members would smuggle unpasteurized cheese in their luggage traveling back from Europe and bring it smiling into the kitchen; perhaps a camembert mousse or soufflé promised in return for the gift.
Travel – Clubs offer opportunity for the chef to learn and advance in the areas of international cuisines. Noodle bowls, street foods, dim sum and crisp potato pancakes all find a member anxious to partake. Middle Eastern specialties' fit with grills, Spanish cuisine, curry, sushi and pizza. There is no end to the variety and no club chef should ever be bored. Many Club Chefs are encouraged to travel annually to see and experience other cultures just to bring back ideas to use at the club.
Operate a True Kitchen – Many clubs continue to afford a high end or full service One that has a complete butchery operation, essential to controlling costs and bringing higher quality for a lower price to the membership. You need all the trimmings, bones, skin and stock to do good work. A full saucier function and a kitchen that smells like a kitchen, not a frozen, boxed food operation. Clubs are often recognized as the last bastion of old school practices
Career Opportunities – Working a few years or more in a first-class club operation leaves one with a "Blue Chip Stock" reference and track record on their resume. This travels with you and embellishes your career history with association to a successful, appreciative culture in our society.
When David asked me to share my club experiences with you I was pleased to do so because I truly enjoyed my experiences working in clubs. I do understand that all clubs are not created equal and as you read through my list what was important to me, might not line up with what you have experienced in clubs. I realize that not all things are rosy as some clubs cannot afford a good budget and excessive micro-managing is a negative that some Club Chefs experience. I will close by saying that both of my DMA partners began their career as Club Chefs and advanced their careers into Club Management. How many Hotel General Managers do you know that made the transition from the kitchen to the Board Room? Clubs offer unique opportunities that other entities just do not offer.
Don't hesitate to contact me if I can assist you in any way.
Bon Appétit