(This recipe was contributed by Dan Hugelier, CMC and Culinary Specialist DMA)
♦
2 cups Fresh Morels, split in half, washed and drained well
2 ea. Shallots minced finely or substitute 3 tablespoons minced onion
2 oz. Melted, unsalted butter
1 ea. Lemon, juice from
1 oz. Brandy or Cognac
1/4 cup Dry white wine
2 Tbl Madeira or Dry Sherry
1 cup Heavy cream or substitute unsweetened evaporated milk
1 ea Bay leaf
½ teas. Salt
1/4 teas. Ground white pepper, freshly milled if possible
Pinch Ground Nutmeg and Cayenne pepper
Method for the Stew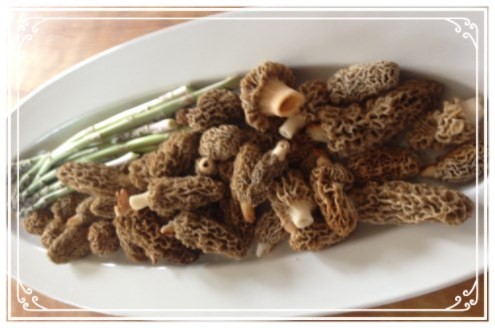 Preheat a skillet or sauté pan large enough to accommodate the mushrooms in one even layer. When it is hot enough to provide a good sizzle, coat the mushrooms and introduce them to the hot pan. Two things are important here. First the pan has to be the right size and secondly the pan must be somewhat hot. This will allow the mushroom to saute and not just boil haphazardly without flavor. It is the light browning of mushrooms which will add significantly to the taste of the dish.
Sauté the mushrooms for about 2 minutes and add the lemon juice, Brandy or Cognac and Wines. Add salt, pepper and nutmeg. (If you're quick on the draw, you can have ready a lighter or match and ignite the liquor in the pan to flambee' this of course is not necessary and it will only impress your guests if you avoid catching yourself on fire…be careful here)
Add the bay leaf and cream or evaporated milk. Simmer, allowing the mixture to reduce slightly to thicken the cream and coat the mushrooms. Leave them somewhat creamy and try not to over reduce. If this happens, simply add a little water or stock to bring back to proper consistency. Remove the bay leaf and keep warm, covered for service.
At service time, spoon the Morel stew onto your serving dish.