and the show must go on …
Craig Meyer CEC, CCA, AAC
Executive Chef
Lakeside Country Club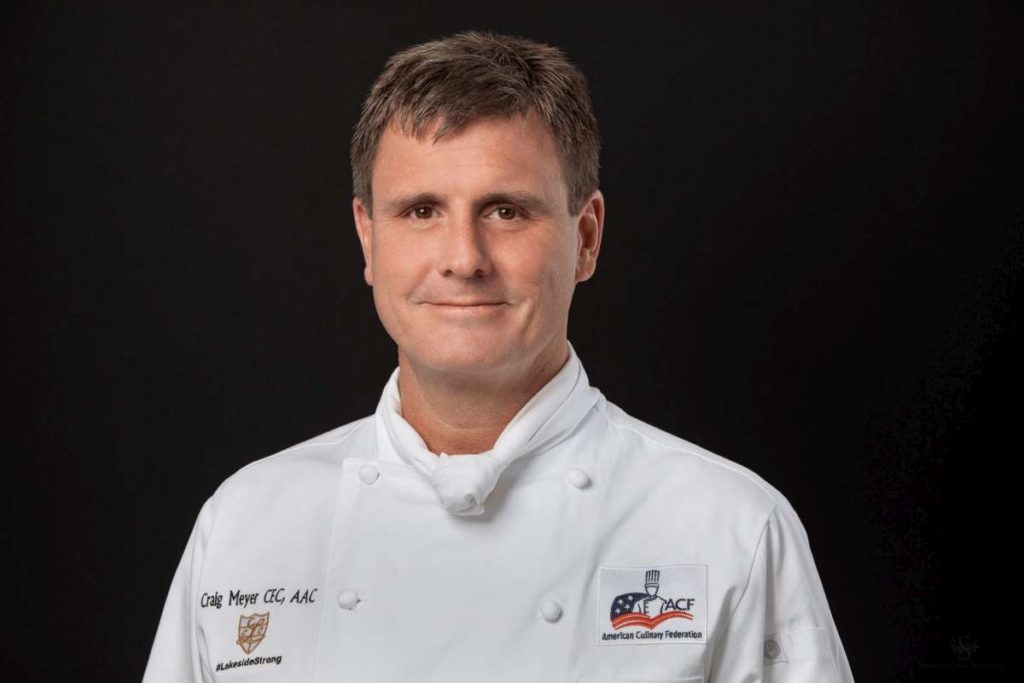 On Saturday August 26th, 2017, Hurricane Harvey made landfall dumping over 50 inches of rain in Houston, Texas and the surrounding area. By Monday August 28th, 2017, reservoirs holding water throughout Harris County experienced 6 inches of run-off water per hour. That evening, the Army Corps of Engineers began a controlled release of the water in an attempt to manage flood levels and reduce the risk of dam structural failure. One of the largest releases happened – and without warning.  And it became a night few of us who live in Houston will ever forget.
Lakeside Country Club is situated along Buffalo Bayou, downstream from the two reservoirs that began releasing water simultaneously. The flood water not only filled the basement of the club; it left up to five feet of water in the main floor of the clubhouse. According to Craig Schaner, CCM, the clubs General Manager, after the water receded and clean up began; it was apparent that Lakeside was in a serious long-term situation, to put it mildly. Craig and his management team working together with the Board of Directors began the task at hand.
After confirming the safety of members and staff, our members immediately rallied to help the club itself, and to help all of us.  Management's first meeting was held outside of our Grounds Maintenance building, one of the very few dry areas on property. Immediately we began a very minimal food and beverage operation on the parking lot of our fitness center. In an impressive six weeks after the flood, the Grounds Maintenance staff had the golf course ready to play. The clubhouse had been revived in case membership decided to renovate the original structure. The Board made the difficult decision to try to operate Lakeside at a break-even … which meant laying off 100 plus employees. Through the hard work and determination of our HR department, we found jobs and leads for all of those employees laid off who wanted to remain in Houston and work.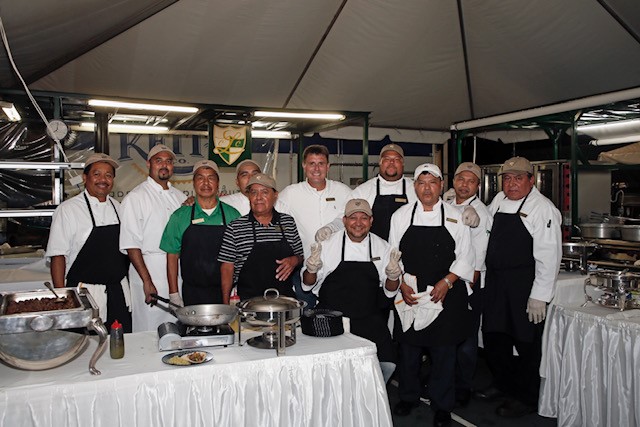 Food and beverage was moved near our golf cart staging area. While in this location, we had a little time to contemplate our next move and the membership decided to scrape and rebuild the clubhouse. The Food and Beverage team decided to use two of Lakeside's tennis courts for a two-year dining structure and kitchen operation. We purchased one large enclosed tent for membership family dining and a second tent for a Men's Grill. For the kitchen, I decided a portable self-sufficient kitchen unit was not our best option. As attractive as the concept seemed, I felt they limited production and possible large revenue dollars later. Instead, we installed two large event tents that could easily accommodate our equipment needs and provide ventilation. Our intention was to cook under these open tents; however, we had several other factors to consider. What level of food and service could we do? What did our members expect? What hours of operation would we be open? Were the Wine Dinners, the Easter Buffet, and other major events even possible? Based on the answers to our questions, we had to figure out what equipment to purchase; as well as what equipment was of any value in the new clubhouse after the rebuild.
We already owned the only piece of equipment that survived the flood, a barbecue trailer that sat on high ground, specially built with a smoker, grill, fryers, hand sink and lights. It got us through the first couple of months, but was not enough for what we wanted. We decided, and the Board approved, to have another trailer built by East Texas Smokers. I ordered this new trailer with everything the other trailer didn't have which included four ovens, cast iron cooktop range, griddle, warmers, large eye burners, a pantry and a three-compartment sink and hand sink. To finish it off, we added a 4,000kw generator and blue tooth sound system. (That item may have slipped in there). This is a tandem axel trailer that has value after the rebuild including farm to table parties, outdoor action stations, theme parties and best of all, it is independent with power and water.
The menus changed the day we received this new trailer. Big step forward now, momentum started and we could not only do nice daily a la carte offerings, but we could now produce larger events and stage them in the tents. Ben E. Keith, a local purveyor, loaned/leased us a large reefer trailer with cooler, freezer and dry storage. We were officially on our way! We let the membership know of several new events. There was action and excitement, and although not permanent or perfect, the members appreciated our efforts.  Everything seemed slightly normal for a change.
We added seven shipping/storage containers on the employee parking lot to hold paper goods, china, soda, liquor and wine, etc. The bottom line began to turn around, and although it was not nearly what it was, it was promising. The only issue left was how do we get away from disposable and rental plates, rental silverware, etc. This seemed to be the most challenging task and these daily costs were hitting us hard. After careful thought and input from several plumbing and electrical pros, we were able to convince Ecolab into installing a "low temp" dish machine (yes on a tennis court), that introduces a sanitizer at the final rinse stage using only a normal household electric water heater. After that we brought power in and installed a three-compartment sink with soap and quaternary sanitizer. Lastly, we needed to create proper drainage with a grease trap based on the quantities of water we use. We dug out and ran those drains to the city grey water sewer.
The day we finished this project was a game changer as it was the first day, we provided china, flatware, and glassware without the daily costs.
The kitchen currently operates from 7AM to 8PM daily. We are still constantly battling challenges that come our way – like wind, rain, heat and cold – but my crew faces every single day with amazing resolve and determination.  They continue to provide our members a place to gather, eat and drink, and be a community.  They never complain, never say it's too hard.   I couldn't be prouder of them.
I'm not sure what I can do with everything I've learned from Harvey, the devastating catastrophe that hit Lakeside Country Club so hard.  But I can say – with a smile – it's not every day you see a fully operating kitchen on a tennis court.  And, as we all know, the show must go on.
Looking forward at the time I am writing this article, I am pleased to say that Lakeside Country Club's new 90,000 sq. ft. clubhouse is on track to open during the Fall of 2019. It's been a challenge to say the least but it will all be worth it. LCC members will have a facility built on higher ground to avoid future flooding with all of the amenities and facilities that will provide a community bastion for many years to come.