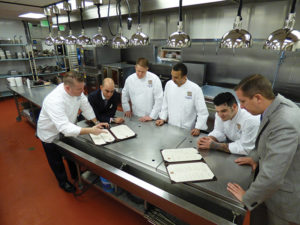 When David Meyers Associates is retained for a Club Chef Search, we try to get management to tell us what qualities they are looking for in their next Chef. They almost always give us two or three attributes as well as areas within their operation they would like to fix with their new hire. They tell us they want an excellent communicator; a creative individual who can "Wow" the membership with new and creative food offerings. The new Chef must be experienced and be able to handle multiple events; a Team Player who will develop staff; able to control cost and maintain consistency! A Chef's interaction with Club membership is becoming increasingly more important as to what Clubs are looking for.
In our view there are three specific areas that we look for in assessing candidates.
Technical/Creative Ability
Leadership/Management Skills
Business Acumen.
Let's review what each of these areas includes:
Technical/Creative Ability The short answer is someone who has a solid technical foundation, and can cook with flair. This individual should be process orientated with a sharp eye for detail and organization. A cooking foundation is built on years of experience learning the proper techniques and practicing them. For example; a Chef should know the various vegetable knife cuts or the five basic sauces, how to filet fish properly or break down a leg of Veal. A cooking foundation can be learned at a good Culinary School and/or having a qualified mentor to guide you and share knowledge. Creativity and innovation is becoming increasingly more important. In our opinion, creativity should connect to foundation skills and not be so way out there a dish is unrecognizable and doesn't mesh. Clubs are insisting on more frequent menu changes; Club GM's want to wow their memberships. A Chef that is able to take knowledge and apply it effectively is a valuable asset. We also believe that knowledge is gained through association so we look for Chef's who participate in culinary completions and associate with other like professionals as often we learn best from each other! It is also beneficial to build your resume by working at Clubs, Hotels or Resorts that are known for quality food operations and have recognized mentors.
Leadership/Management Skills
Leadership and being able to manage a kitchen go hand-in-hand with the technical ability and experience to produce outstanding food. Recruiting F&B staff is becoming increasingly more difficult and Chef's with people skills, are Human resource savvy and work in an organized manner are in demand. Chef's need the ability to assemble an effective culinary team and then, continually develop and keep the team motivated. In some regard a Chef is like a coach who is trying to build team spirit. I believe one of the most important attributes is the ability to conduct effective Employee Performance Appraisals.
Communicating with staff, directing and trusting them and then constructively critiquing will help them grow. The Chef should be firm but fair in dealing with staff and needs to work in harmony with other department heads. When Chef's go into a Club they must be flexible with the ability to accept criticism and membership feedback.
Business Acumen
First and foremost the Chef should maintain high ethical standards and represent the club in a professional manner. It's important to maintain fiscal responsibility and meet budget guidelines. The Chef should be a capable administrator with the ability to control costs: (purchasing/receiving/storage, production and waste) as well as treating all employees fair in accordance with the club's employment policies. Knowing OSHA and/or environmental regulations and maintaining high sanitation standards is necessary.
Other attributes include: having Communication Skills – both oral & written, possessing a good sense of humor with a positive upbeat attitude and able to adjust to different situations. Energy – works with a high level of enthusiasm, has stamina and is able to work the hour's necessary. The Chef candidate is accomplished in all facets of kitchen operation with a professional career track record of achievement. We also believe having a strong, supportive and stable personal life balances the Chef.
Once you have been invited for an interview and tasting it is critical you come prepared and with an upbeat attitude. Sometimes it's the little things that make a difference in getting the job or not. It is very important to connect with the GM and Committee. Give them a reason to hire you. Reassure them! For example, you may be from out-of-town and are competing with local candidates. All things being equal or close, it is much easier to hire locally then to bring someone in from another area. Before you leave that interview, you need to reassure the Search Committee that you would love to move to their area and give them a good reason why. Making that connection is important so never take things for granted and think through what you can do to gain their support.
Please know that all of our experiences and people who we come in contact with influence our next decisions. Set yourself up for success and make sure your experiences and contacts are right for you. The (DMA) team wishes you the best of success in moving forward with your career; never hesitate to contact us if we can assist you.