We are currently accepting candidate packets from engaged and proven culinary professionals with a passion for organizing and executing detailed events.
These premiere Naples clubs are lead my industry regarded Chefs that run large, dynamic and diverse culinary programs that are always evolving.
The Banquet Chef (Sous Chef reporting to the Executive Chef and Executive Sous Chef) is responsible for managing a budget exceeding $1M in annual banquet event sales hence must be highly organized, current in event executing and good with people.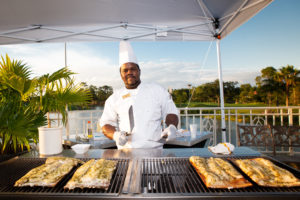 The Club offers a very attractive earning and employee benefits with wage grouth and promotions possible as one will progress in the organization.  Industry dues and continuing education, health & life insurance, 401(k) with matching contribution and other standard perks. Relocation assistance is available. An active ACF member is preferred.
Interested individuals should send a personal-portfolio, a well-conceived cover letter and supporting information, which will be held in strict confidence. Click Here to upload your professional information:
Interested?   Work with DMA, a team of proven culinary professionals to help advance your career. Click Here to upload your professional information: