Another incredible culinary career opportunity with Birchwood Country Club, exclusively conducted by DZA.
The concept of Birchwood Country Club was conceived in late 1945 after the conclusion of World War II. The property and landmark homestead upon it, belonging to the then defunct Westport Country Club, was acquired by Birchwood Country Club, which formed and incorporated in 1946. Birchwood Country Club is located on eighty manicured acres in the heart of Westport and is also convenient for residents of Weston, Fairfield, Wilton, and Norwalk.
At Birchwood, the feeling is relaxed, and the focus is on the family. The Club features a wide variety of social events, superb dining with lots of outdoor space, a spectacular kids camp as well as our thriving golf, racquets, and aquatics programs.
From day one the Club was known for the quality of its membership, which largely was drawn from New York City north and east to Bridgeport, CT and beyond. That membership as well as the style, ambience and atmosphere of Birchwood has always been admired and considered to be among the finest of the many clubs in metropolitan New York.
BCC Is a GREAT Wedding Venue!

Home to a challenging Nine-Hole Course designed by Orin Smith
Position Specific: The Birchwood Country Club is looking for a passionate leader who has the energy and knowledge that will run the culinary department to a high level of excellence. He/she will earn the respect of the staff and then take them to new heights. The Executive Chef will modernize menus; write purchase specifications, standardize recipes, and purchase all food along with managing all business affairs of the culinary department.
This individual should have the ability to adapt, make better and not be afraid to make changes that improve the operation. The Chef will understand member dining preferences and continue to develop the culinary program and offerings to meet and/or exceed member needs.
Challenging Nine-Hole Course designed by Orin Smith
Initial Focus:
Develop New Menus – The Executive Chef is expected to evaluate and improve the menu variety focusing on fresh farm-to-table and sustainable ingredients. Works with GM on pricing.
Team Building- Inspire the team and build a strong culinary culture driven to excellence. Serve as coach and mentor and lead by example. Team growth and collaboration with other key management is important for success.
Cost Control – The new Executive Chef is expected to evaluate current operations and staffing and provide recommendations for enhanced systems, controls, product, and services in all areas. Initiates changes that respond to the marketplace and to members' needs, both present and anticipated.
Kitchen Improvements – The Executive Chef is expected to evaluate the current kitchen and provide recommendations for enhanced new equipment and systems.
Candidate Qualifications:
The position requires an engaged leader who will evaluate operations and implement true Executive Chef practices and procedures.
The Executive Chef is a multi-tasker, able to delegate, train for consistency, establish procedures for departmental cost control.
There is a dichotomy in the food service as the older members love the food and the younger members are looking for something new. The new Executive Chef will have to balance the menu maintaining traditional favorites and at the same time introduce new ideas to create a continuity of innovation to please the young members.
The Executive Chef evaluates job performance of culinary staff; coaches and counsels to ensure staff is on track. Rewards and disciplines staff in a fair manner.
The Executive Chef will work directly with the General Manager to provide a schedule-based budget for labor, and agree on capital needs. The Chef will review all things associated with restaurants, cost of sales. percentage of labor, sales etc.
The Executive Chef is expected to attend committee meetings on occasion Here, he/she will listen to member feedback and respond to questions accordingly.
The Executive Chef is creative and has a high command of the operations and an even temperament during the most stressful times.
Additional Information:
Annual food sales $850,000; Total F&B Sales $1,082,000.
The Club currently maintains a 57% food cost with a sales mix of 86% A La Carte and 14% banquet. Food Cost goal – 50%
There are 6 culinary staff and 4 stewards supported by a $531,000 Labor Budget.
There is (1) Sous Chefs and the Chef does the Purchasing. The new EC may wish to bring a Sous Chef to the Club.
The Club supports (2) Kitchens, Main and Snack Bar. Management rates the condition as a 4 out of 5. Note: The size of the kitchen is large. Management wants the new Chef to evaluate the equipment and functionability.
The Club has one (1) Clubhouse with 300 members whose average age is 58.
The Club operates (10.5) months annually and is closed Half of Jan and all of February. Very busy Memorial Day through Labor Day.
The Executive Chef reports to the General Manager and works closely with the Restaurant Manager, Clubhouse Manager, Controller and Communications Manager.
The previous Executive Chef was employed for 2.5 years.
Dining: (A La Carte Dining Outlets)
Main Dining Room – Formal with 200 seats, serving dinner Thursday through Saturday.
Terrace Room – Casual with 70 seats, serving lunch and dinner Tuesday through Sunday.
Snack Bar – Casual with 100 seats, serving lunch and dinner Monday through Sunday.
Private Parties/Member Events – There are two (2) Private Rooms seating from 10 to 200. The largest sit-down event the club can accommodate is 200.
A compensation package that will include a generous base salary and performance bonus. Benefits include medical insurance, dental insurance, 401K w/30% match, vacation, and ACF Dues. Relocation allowance is negotiable. Interested individuals should send resumes, a well-conceived cover letter, and supporting information (a digital Portfolio is encouraged)   Click Here to upload your information: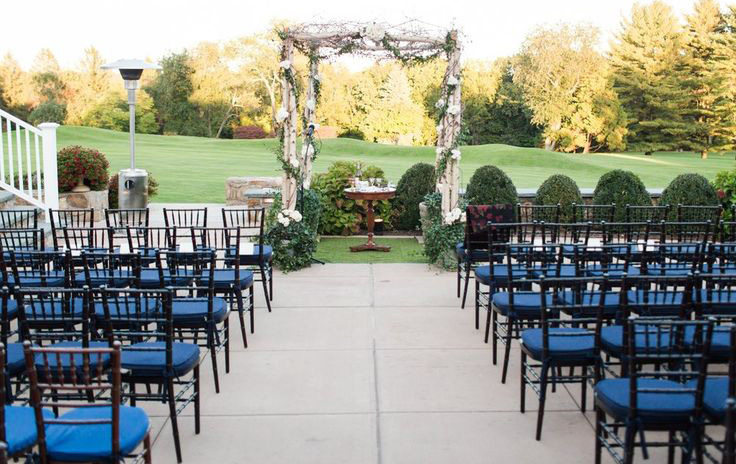 Interested individuals should send resumes, a well-conceived cover letter, and supporting information (a digital Portfolio is encouraged)  Click Here to upload your information:
Work with Denise Zanchelli and Team DZA, a team of proven culinary professionals to help advance your career.
Contact Daniel Hugelier​ Bill Schulz​ or Denise Zanchelli directly at  denise@meyersassociates.com