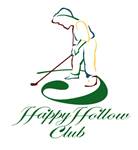 Happy Hollow Club is a premiere full-service Country Club located in a city always ranked as one of "American Top Cities" in America. This respected club has an impressive membership that actively supports the club and services and is treasured as a place to build memories with family and friends over a special dinner, relaxing at the pool, attending club sponsored events or to celebrate important family celebrations such as weddings, birthdays and anniversaries. A sanctuary with a beautiful and challenging golf course, first class dining services and top-quality athletic facilities are enjoyed by the entire member family.
Club History: The existence of Happy Hollow was spear-headed by eleven prominent Omaha businessmen led by Mr. Erastus A. Benson (the founder of the small community of Benson in North Omaha). On April 2, 1907 these men held the first stockholder meeting and adopted the Articles of Incorporation. Curiously, the very first resolution by these first Directors of Happy Hollow Club was to prohibit the selling of any form of alcohol on the club grounds. As years passed the club was dubbed the "Grape Juice Club." This did not deter the growth of the club as the membership mounted rapidly and steadily. Like all successful clubs, Happy Hollow has undergone many face-lifts and additions throughout the years. The club's most recent endeavors have been by far the most involved and most beneficial.
Position Specific: The Club is looking for a talented professional to lead the culinary team; maintain and continue to improve an already impressive culinary operation. This is a Working Chef position that requires strong leadership, the ability to interact with people and good (HR) and administrative skills. Leadership will be demonstrated by a hands-on approach overseeing daily food production that assures a consistent quality product and ongoing staff development. The number one goal is to produce credible, creative, and consistent food while training a staff to do provide the same when the Exec Chef is absent.  Midwest Experiences and Work Ethic are critical to one's Success.
Equally important is the candidate's character; the innate ability to build a professional and friendly kitchen environment that is respectful of the front-of-the-house staff and membership. The Club's culture is one that values Honesty, Hard-Work and Professionalism. Management and membership foster this quality and encourage professional growth and association involvement at all levels.
Initial Priorities:
Understand Club and staff Culture – "Team first" and it is not just lip service at HHC. If you are not a team player, it will show in short order and you will no longer be on the team. Their strength is in each other!
Training, Motiving and inspiring a seasoned and loyal staff (engage and invest in them).
Ensure consistency – "no variation in product regardless of who cooks every meal at HHC".
Engage the membership early with Fireside Chats (Town Halls) to allow members to "get to know you". Be very visible and engaging and don't hesitate to introduce yourself early on.
No need to rock the boat and change things on day one. Ease into any major changes.
Key Expectations and Goals:
The EC is hands-on and cooks or directly supervises the cooking of items that require skillful preparation.
The Chef serves as role model and sets the standard for all employees to maintain high-quality on a consistent basis. This requires an advanced knowledge of industry best practices and member service.
The successful candidate will be a motivator committed to the team and staff development through hands-on training and coaching.
The Executive Chef interacts enthusiastically with, and is visible to, the membership and be available to the membership for consultation on menus for private events.
The EC must be skilled administratively to accurately purchase, maintain inventories, and track costs. Is a problem solver.
Ensures that the highest standards of sanitation, cleanliness, and safety are maintained throughout all food service areas at all times.
The Chef will be directly involved in creating their yearly operational budget including, food costs, payroll and operating supplies.
Be directly responsible for a CAP EX replacement plan assisting the Building Engineer where every piece of equipment is cataloged with information; i.e., purchase date, repair history, and expected life expectancy.
Note: HHC also operates a full-service on-premise Bakery providing a variety of products and services to members.
Additional Information:
Annual food sales at $2,507,269; total F&B Sales $3,534,304.
The Food cost is 43% with a sales mix of 40% a la carte and 60% banquet. Food Cost goal 42%
35 kitchen employees supported by a $1.2 MM labor budget.
The Club maintains two (2) kitchens. The Main Kitchen and Pool Kitchen. The Pool kitchen will be completely rebuilt in Spring of 2020 during the construction of a brand new 15K sq ft Activity Center.
The Executive Chef is supported by two (2) Sous Chef and a Pastry Chef. The Chef and the sous chef team purchase all foodstuff.
The Clubhouse is 77,000 sq. ft. with 1,000 members whose average age is 60.
The Club operates twelve (12) months annually. The Club closes only 2 days the entire year.
The Executive Chef reports to the Assistant General Manager and works with the Beverage Mgr., Director & Assist Director of Catering & Events, Banquet Mgr., Dining Room Mgr., CFO, Bakery Mgr. and Director of Communications.
The previous chef was with the Club for seven (7) years and has set a high standard.
The Pub – Casual with a 60-seat capacity. Open for lunch and dinner – Tuesday – Sunday.
The Starlight Grill – A more formal room with 120 seating capacity. Lunch and dinner served Tuesday through Sunday with a traditional Sunday Brunch as well. Elegant dining in one of Omaha's premier venues, overlooking the beautiful golf course.
Men's Cry Room – 60 seats – Open for lunch and dinner Tuesday through Sunday with breakfast offered on the weekends.
Ladies Card Room – 24 seats – . Open for lunch and dinner Tuesday through Sunday with breakfast offered on the weekends.
Private Member & Club Events –There are six banquet rooms and a Ballroom with adjoining rooms. Overall banquet spaces afford the flexibility to host sizable weddings and important social gatherings of up to 450 guests.
Pool / Activity Center coming Spring 2020 –45 seats.  Open for Seasonally for lunch and dinner.
The Club offers a competitive compensation plan including a competitive base salary based on experience and skill, ACF dues and Convention, dining allowance, health & life insurance, 401k and other standard perks. Interested individuals should send resumes, a well-conceived cover letter, and supporting information. (A Personal Portfolio is encouraged) in strict confidence.   Click Here to upload your professional information:
Interested?   Work with DMA, a team of proven culinary professionals to help advance your career.