https://www.lakeshorecc.com/
Lake Shore Country Club (LSCC) is a premier, member-owned club situated on the shores of Lake Michigan on 127 acres in Glencoe, Illinois just 25 miles north of Chicago. Founded in 1908, LSCC is truly a family-oriented club that offers its members the full range of sport amenities including 18-holes of golf, tennis, paddle and aquatics, in addition to formal and informal dining options and an active social calendar.
The Frederick Law Olmsted Jr. designed golf course is separated from the Main Clubhouse building by Sheridan Road and hosts 10,000 rounds annually. It is noted for its difficulty and lengthy par 4's and has a series of ravines that need to be negotiated on several holes. There is a driving range, putting greens and a separate chipping practice area as well as a golf pro shop. The Westside Clubhouse is located on the golf course side of the property and offers members a sophisticated informal dining option which recently has become a popular weekend dining destination for many. There are also two hard surface tennis courts and four paddle tennis courts available on the Westside property.
Stately Hallways
The 60,000-square-foot Main Clubhouse (Eastside) features several member dining and event space options: Main Dining Room (80), Porch Dining Room (80), Terrace Dining (160), Living Room primarily for events (170), and the Eastside Bar/Lounge (45). All overlooking Lake Michigan, members enjoy seven clay tennis courts, swimming pools, snack bar, and private beach. There are 20 overnight guestrooms available for daily or seasonal rental.
Summary: The Club generates approximately $7 million in annual gross revenue with $2.12 million in food and beverage sales (30% of which from private events). There are 470 memberships. The Executive Chef must have a style and personality that fits the Club's signature atmosphere of "understated elegance." The Executive Chef will look forward to building relationships with membership and their families, as well as with the loyal and dedicated staff. This is a family in which the Executive Chef will ideally integrate fully.
Position Specific: The Club is looking for a 'Kitchen Team Leader' with the ability to keep up-to-date with current F&B trends; yet adaptable to please the various demographics within the membership. The Club needs a quality individual who can manage multiple outlets with different menus and environments on a consistent basis. The members love to try new things and an individual who has the ideas and passion to share and grow the F&B program at the Club is required.
The new EC will be passionate about food; will keep-up with the latest food trends and products and will have a strong understanding of, and be responsive to, organic, gluten free and other possible member requests. The new EC will be respectful of traditions and personnel but forward thinking.
Initial Priorities:
The successful candidate will be a committed leader able to develop a strong culinary team and maintain a positive Team Spirit.
The new EC will evaluate current operations and staffing and will provide recommendations for enhanced systems, controls and consistency in the kitchen.
Help to establish two new restaurant concepts scheduled to open soon as part of the Clubs renovation.
Get up-to-date and learn the member culture and traditions.
The new EC is expected to be visible and personable with members and their guests.
Maintains awareness of current culinary trends and interjects new ideas and products into the operation.
Job Requirements:
Organized and detail-oriented with a passion for the profession and excellence.
Is self-motivated and has the ability to lead, inspire and mentor individuals throughout the food & beverage department.
A skilled communicator, professional and personable demeanor and approachable manner are important pre-requisite qualities.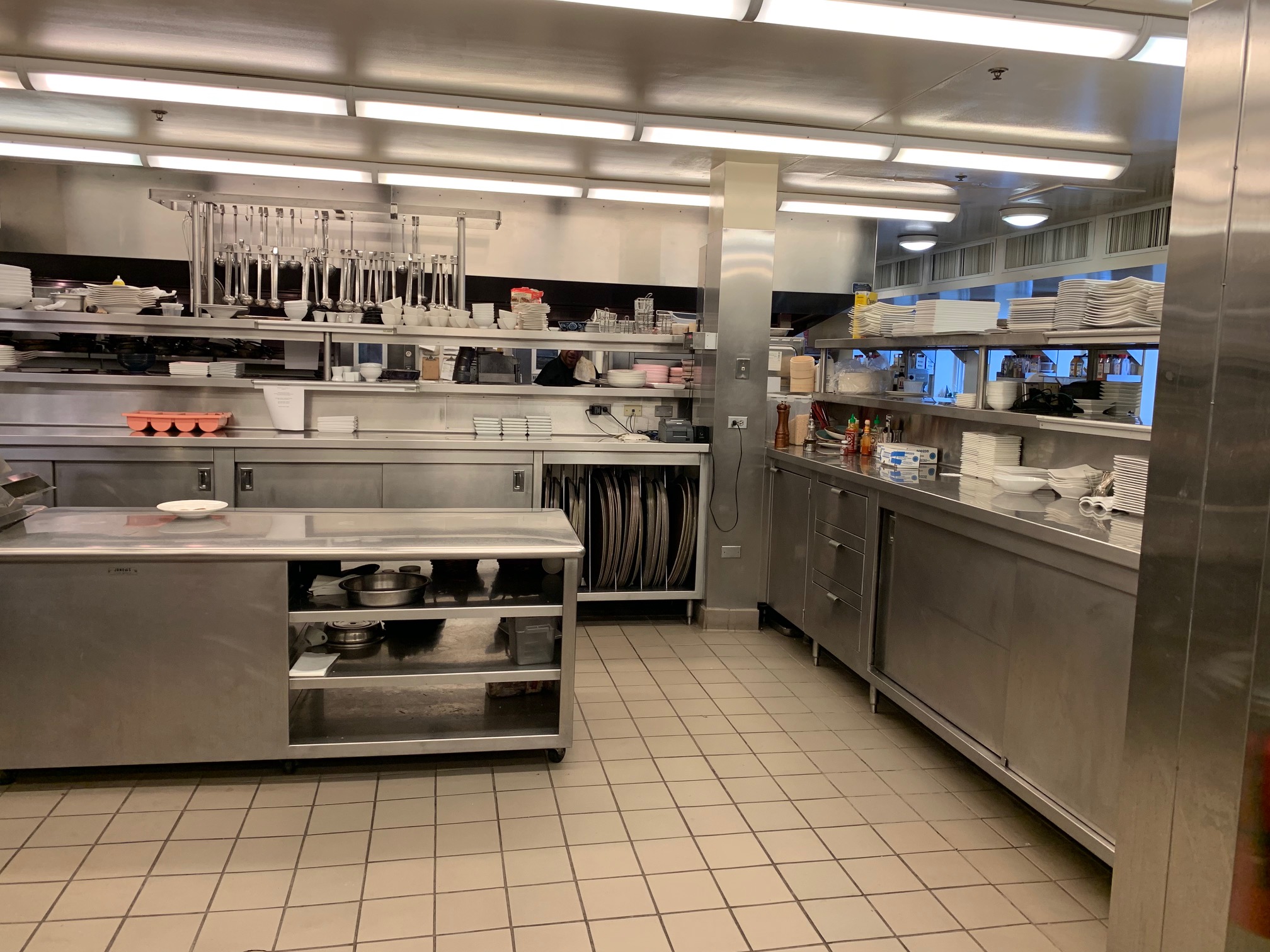 Well-Equipped up-to-date Kitchens
Creative thinking to help concept two new restaurants the Club is opening summer of 2020.
Menu development diversity, changing integral parts of culinary culture through establishment of desired standards with clear expectations.
The chef creates his initial budget and then works with GM to finalize it before approval by the Finance Committee.
Competent in organizational and time management skills and multi-faceted operations experience.
Ensures that high standards of sanitation, cleanliness, and safety are maintained throughout all kitchen areas at all times.
The ability to demonstrate good judgment, problem solving and decision-making skills.
Additional Information:
Annual food sales $1.9MM; Total F&B Sales $2.12MM.
Annual combined food cost 37.6% with a sales mix Sales of 70% a la carte and 30% Banquet.
There are 11 kitchen employees in season supported by a $622,000 labor budget.
The Club maintains three (3) Kitchens (Main, Westside and a new Cabana kitchen that will be full service) Mgmt. rates kitchen as a 4 out of 5. Capital Plan in place.
The Club has one (1) Sous Chef (The Club plans to add an Executive Sous Chef at completion of renovation.) The EC does the purchasing.
There are (3) three Clubhouses totaling 80,000 sq. ft. supported by 470 members whose average age is 66.
The Club is open 10 months annually; closed Christmas Day to the second week of March. (Offers Paddle Tennis only January/February when Clubhouse is closed)
The EC reports to the General Manager; works closely with Clubhouse Manager, Service Director, Dining Room Manager, Events Director and Controller.
The previous Chef was with the Club 18 years.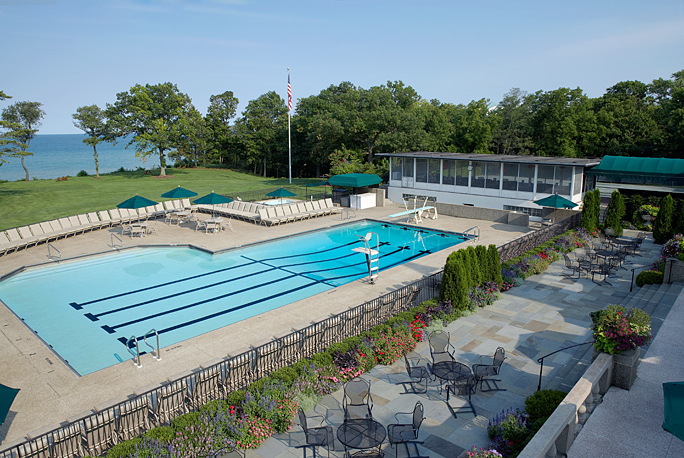 The Swimming Pool on the shores of Lake Michigan
Future Plans:
"The club is beginning a multi-million-dollar renovation in the fall of 2019. Two new restaurants, new pool area, expanded outdoor terrace, new paddle hut and golf course work is the major focus of this project. The Club plans to reopen to full operation and a busy season late June 2020"
Private Parties:
The Club has three (3) Private Party Rooms with seating capacity from 10 to 280 guests. The largest sit-down Banquet/Event the Club can accommodate is 280 guests.
The Club offers a generous compensation package including a base salary based on experience and skill, performance bonus based on pre-agreed goals, health, dental & life insurance, 401k with match, dining allowance, ACF dues and convention plus other standard perks. Relocation allowance negotiable. Interested individuals should send resumes, a well-conceived cover letter, and supporting information (a digital Portfolio is encouraged) in strict confidence. Click Here to upload your professional information:
Interested?   Work with DMA, a team of proven culinary professionals to help advance your career. Click Here to upload your professional information:
On Lake Michigan