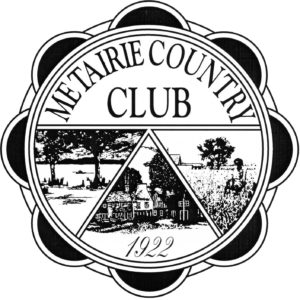 Since its inception in 1922, Metairie Country Club has served its members as a haven of leisurely social elegance. Opened exclusively as a golf club, Metairie Country Club achieved instant fame due to its innovative course design. Taking a unique approach, every hole was a replica from a Scottish or American course. This spurred a tradition of creativity and reverence for the game that continues to this day, and makes us a unique Country Club in Louisiana.
Located in the prestigious and historic Metairie Club Gardens in Old Metairie, just minutes from Downtown New Orleans you will find stately homes, historic oak tree lined streets with some of the best shopping and dining establishments in the South. Southern charm and grace at its best!
Metairie Country Club is a private, member-owned, full service, family-oriented Club dedicated to providing Members with superior service, recreational amenities and a social community. A gathering spot for every occasion. In keeping with its tradition, membership is by invitation only and subject to the normal membership process in accordance with our Club's Bylaws.
Initial Priorities:
With this appointment the Club is looking to evolve and elevate the club's food programs.
He/she is up-to-date with new food trends and products and has the ability to grow the Banquet department.
Learn and embrace member dining preferences then continue to develop the culinary program, evolving menu programing peaking membership's interest in a la carte and event services.
Leadership by example. Provides training, coaching and professional development opportunities for kitchen staff.
Ensures that the highest standards of sanitation, cleanliness, and safety are maintained throughout all food service areas at all times.
Position Specific: "This is a Great Opportunity for the next Chef to take the culinary operation to the next level."
The Club is looking for a talented culinary professional who is "innovative, creative and trendy while fully understanding and respectful of club traditions and culture" New Orleans is on the Gulf Coast and known for regional Cajun/creole cuisine and fresh fish/seafood are core to menu programing success. This responsibility requires a hands-on approach to the daily management of kitchen with focus and greater influence on the a la carte dining hub of the Club.
The most important requirement for this position is the "Mutual Trust and Respect" Relationship between the General Manager, Executive Chef and Clubhouse Manager. Honesty, Integrity, Moral Character, Intestinal Fortitude) "Fire in the Belly, Desire, and Passion for achieving Goals are "must haves."
Job Requirements:
The Executive Chef is hands-on and cooks or directly supervises the cooking of items that require skillful preparation.
Organized and detail-oriented without an ego driven approach.
The ability to lead, motivate and mentor aspiring individuals throughout the organization.
Must be a team player who leads by example.
Is a good communicator. Participates with newsletter article and appears at specialty dinners to provide food commentary.
Consults with CM & House, Tournament Committee about food production aspects of special events being planned.
Competent in organization and time management skills.
Develops recipes, standards and techniques for food preparation and presentation that will assure a consistently high-quality product.
Key Expectations and Goals:
The role of the Executive Chef of MCC is to be completely responsible for the opening, closing, and daily consistent execution of operational standards and Culinary Programs for all of the Food and Beverage venues of MCC.
The Chef serves as role model and sets the standard for all employees to maintain high-quality and consistent member service. This requires an advanced knowledge of industry best practices and member service.
The successful candidate will be a motivator committed to professionalism and staff development through hands-on training and coaching.
The Executive Chef interacts enthusiastically with, and is visible to, the membership and be available to the membership for consultation on menus for private events.
The Executive Chef will attend all Executive Staff meetings and is expected to maintain a professional relationship with all employees
Works with Clubhouse Manager on the annual budget. Should have knowledge of budget analysis, kitchen accounting and kitchen and dining areas relative to point-of-sale applications.
Additional Information:
Annual food sales at $1.7M; total F&B Sales $2.3M.
The Food cost is 38% with a sales mix of 40% a la carte and 60% banquet.
During the most recent Fiscal Year, F&B earned a profit of $126,000.
The F&B employees are supported by a $575,000 labor budget.
The Club maintains two (2) kitchens. (Main and Banquet Prep). The Main Kitchen received all new equipment in June 2018.
The Executive Chef is supported by two (2) Sous Chefs and a Purchasing Manager.
The Clubhouse is 52,000 sq. ft. with 880 members whose average age is 57.
The Club operates twelve (12) months annually with usage throughout the year. Closed Christmas & New Year's Day
The Executive Chef reports to the General Manager and works directly with the Clubhouse Manager, Catering Department, and Banquet Manager.
The previous chef was with the Club for two (2) years and only leaving because husband is being transferred.
Dining Facilities: (Five Ala Carte Outlets)
Woodvine – Casual with a 90 seat capacity. Serves dinner five days a week with a select menu of Creole and continental delicacies.
Raynor – A casual dining room with 60 seat capacity. Offers casual lunches and dinners six days per week.
Audubon – Occasionally used for Ala Carte; mainly used for private parties with 36 seats.
Men's Grille – Casual with 80 seats. Open seven days a week, offers lunch and cocktails.
Ladies Card Room – Casual with 40 seats. Open five days a week, serves lunch and dinner and offers a host of other activities.
Private Member & Club Events – Serving banquets up to 400 guests The Club offers five (5) various size party rooms on property as booked.
The Club offers a competitive compensation plan including a competitive base salary based on experience and skill, ACF dues and Convention, dining allowance, health & life insurance, 401k and other standard perks. Interested individuals should send resumes, a well-conceived cover letter, and supporting information. (A Personal Portfolio is encouraged) in strict confidence). The Club prefers a professional that is active in professional association including the ACF, ideally a Certified Executive Chef (CEC). Click Here to upload your professional information:
Interested?   Work with DMA, a team of proven culinary professionals to help advance your career.