The Oklahoma City Golf & Country Club, established in 1911, is Oklahoma City's oldest and most prestigious private country club. It is recognized nationally as one of the premiere clubs for facilities, progressive programming and overall operational standards along with sporting a reputation as one of the 'very top' Food and Beverage programs in America. This distinction will continue in its selection of its next Executive Chef, an industry leader in their own right!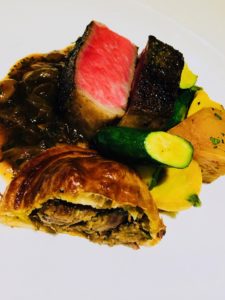 Position Specific: This is a true Executive Chef position requiring presence! The position demands strong leadership skills and ability to foster a highly engaged, cohesive and dynamic culinary culture. This individual has the innate ability and passion that inspires others when interacting with membership and staff at all levels throughout the organization. This position requires a demonstrated hands-on approach, working closely with culinary personnel, inspecting production standards and assuring a consistently high-quality product is executed as a result of an engaged team; a truly polished and approachable leader who relishes being engaged and challenged on a daily basis.
Core and ongoing to OKCGCC's culture is staff development. The Club's culture is one that values Honesty, Hard-Work and Professionalism. The EC will continually work to advance self and team's technical abilities and manner with the goal to develop each individual's overall ability to work effectively as a team producing well-prepared cuisine, varied menu selections and signature dishes with broad-based appeal to the entire membership.
Proven management and relationship abilities through effective communication skills are core to the Chef's nurturing a "progressive culinary culture" while working within budgeted financial objectives. Club management and membership support professional growth and involvement in Professional Association throughout all levels of the organization.   Cornerstone to all noted requirements is a genuine passion for the profession coupled with a high-degree of integrity and maturity; a team player who is accountable and delivers on their word.
Operational Particulars:
Club Kitchens are state-of-the-art with all modern technologies with independently operating departments under the careful watch of the Executive Chef include including a sizable Pastry Kitchens, a centrally located Main a la Carte Kitchen, a Pool Kitchen (serving "Best Burgers in OK City"), and a Banquet Kitchen featuring a large, build-in "Southern Pride" Smoker along with a Chef Office large enough for member dining at the "Chef's Table."
Annual food sales exceed $3.5M; Total F&B Sales exceed $5.5M with $6M insight. F&B performs at break-even.
The EC is supported by three (3) Sous Chefs and a Pastry Chef and a purchasing Manager.
There are 40+ culinary employees supported by a Culinary labor budget of $1.35M.
Annual combined food cost 41% with a sales mix of 60% events and 40% a la carte.
The Club maintains (4) kitchens; main Kitchen that services both ALC and Banquets, Pool Snack Bar kitchen and small food service area for Halfway House. (Mgmt. rates kitchens 4.75 out of 5 in overall condition and workability)
The current Chef is relocating for personal reasons in the coming year after five very successful years with club.
Job Requirements:
High-Volume with multiple outlet experiences and oversight forged in quality brand environments of regarded culinary standards.
A gifted "Culinarian" that is hands-on that both cooks and directly supervises the cooking of items that requiring skillful preparation and oversight.
A team player, personable and accomplished recruiter who leads by example developing a cohesive and talented team of future industry leaders.
A skilled communicator, professional and personable demeanor and approachable manner are important pre-requisite qualities.
Highly organized, innovative and visionary planner are essential qualities.
Best in practice of Sanitation and food handling methods.
Business minded with proven abilities operating with written department standards: recipes and food preparation and presentation manuals.
Ensures staff is well-trained and property assigned to consistently product high-quality cuisine.
Timing & Match – The Club will be steadfast substantiating the right sustainable match based upon quality experiences, programming vision and professional manner along with one's genuine passion for the craft; a career student with ability to lead a world-class club program. Coupled those requirements with an authentic love for taking care of people, guests and team are pre-requisites for the position. The club will welcome its new Executive Chef to the increasingly popular Oklahoma City market sometime Q1, 2019.
The Club offers a competitive compensation package including a base salary based on experience and skill, performance bonus, ACF dues and convention, generous health, dental & life insurance and other standard perks.
Work with DMA, a team of proven culinary professionals to help advance your career.   Interested individuals should send your portfolio, a well-conceived cover letter, and supporting information in strict confidence. Click Here to upload your information: