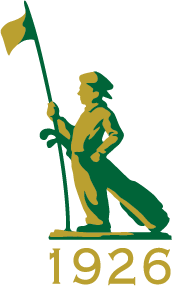 The Club's Mission Statement is "To provide the finest overall member and golf experience of any William Flynn designed golf course." Just outside of Philadelphia in Springfield, PA lays the private members club and golf course of Rolling Green Golf Club. If you love the game of golf, you will love this William Flynn masterpiece. Its rolling fairways and strategically placed bunkers present a challenge to a golfer's skill and mind. The more you play it, the more you will come to enjoy the course.
Over 90 years ago, a group of wealthy Philadelphia Quakers set out to build this golf-only haven, and today, Rolling Green Golf Club is regarded as one of the top courses in the area.
Along with its golf course, Rolling Green is proud of their nationally recognized professional staff. Rolling Green is the only golf club in the country that has two instructors named to Golf Digest's Top 100 Best Young Teaching Professionals for 2021-2022. In the clubhouse, the Food and Beverage team brings extensive experience and service to the members and is currently revamping the wine program and special events calendar.
Position Specific: Rolling Green Golf Club is looking for a proven leader who is able to produce wonderful meals on a consistent basis. This is a great opportunity for the right candidate. The Club is known for its incredible golf course and now is focusing on building a great food and beverage program. The kitchen is four (4) years old and is well equipped.  The membership is looking for great food served in a comfortable, relaxed setting.  The right person will take this opportunity and build a solid food program to be proud of!
The Club prefers a Chef that generally understands the nature of serving a membership and being in the "yes" business. The Executive Chef must be proficient in both a la carte and buffet services. This individual must understand product utilization and waste control. The ideal Chef will embrace the motto of, "Do simple. Do it well. Lead by example."
Initial Priorities:
Food Consistency/Quality – A Chef who has the ability to be creative with menus from simple to complex and insure a consistently prepared and served product. He/she should focus on improving the quality of product and preparation.
Staff Training/Organization – Stabilize the kitchen staff and provide hands-on leadership. The new Executive Chef is expected to work with and improve staff performance and unity.
Sanitation/Cleanliness – Ensure that high standards of hygiene, sanitation, cleanliness, and safety are maintained throughout all kitchen areas at all times. This includes daily walk arounds and inspections.
Priorities & Required Traits:
The Executive Chef serves as a role model and sets the standard for culinary employees to maintain high-quality services and product in a consistent manner.
The Executive Chef has a strong leadership presence and treats all employees with respect and makes the (FOH) and (BOH) teams feel like one.
The Executive Chef will need to have the ability to think out of the box by offering creative/diverse menus and specials.
The Executive Chef participation in the Committee Meetings is not required, but welcomed and encouraged.
The Executive Chef will work directly with the Director of F&B to create a budget for the department that balances membership objectives and kitchen needs.
Has the ability to demonstrate good judgment, and has strong problem solving and decision-making skills.
Maintain high standards of hygienic and kitchen safety standards throughout the kitchen at all times.
The Executive Chef should be visible and engaging with members. Table touching is always appreciated by the membership, and cooking classes would be a nice addition down the road.
Additional Information:
Annual food sales $900,000; Total F&B Sales $1.4M.
The Club currently maintains a 44% food cost; the budgeted goal is 40%. Sales are a mix of 80% a la carte and 20% banquet.
There is a total of nine (9) kitchen employees.
The Club maintains one (1) kitchen (4 yr. old kitchen on the first floor, storage/prep area in the basement.) Management rates the kitchen facilities a 4 out of 5. There is a Capital Replacement plan in place.
The Chef is supported with one Sous Chef. The Chef does the purchasing with assistance from the Sous Chef.
There is one Clubhouse that is supported by 512 members whose average age is 55.
The Club operates 12 months annually; however, no F&B hours in February, but Clubhouse is open. The busy months are May, June, September, October and December.
The Executive Chef reports to the Director of Food and Beverage and works closely with the General Manager and peer Department Heads.
Event and A la Carte Dining Venues:
Golfers Grille – casual with 80 seats, serving Breakfast, Lunch & Dinner Tuesday – Sunday.
Rolling Green Room – both casual and formal dining with 120 seats. Serving Events only at this time.
1926 Lounge – both casual and formal dining with 30 seats. Serving Events only at this time.
Terraces/Patios – casual with 100 seats, serving Lunch & Dinner Tuesday – Sunday.
Flynn's Pub – casual with 50 seats. Serving Events only at this time.
Private Parties/Member Events – The Club has three (3) Private Rooms with seating from 30 to 120. The largest sit down the Club can accommodate is 120 guests.
A compensation package that will include a competitive base salary and annual bonus. Excellent benefits including medical & life insurance, 401K, vacation and ACF dues & conference.  Relocation allowance available. Interested individuals should send resumes, a well-conceived cover letter, and supporting information (a digital Portfolio is encouraged) in strict confidence.  Click Here to upload your information:
Work with DMA, a team of proven culinary professionals to help advance your career.