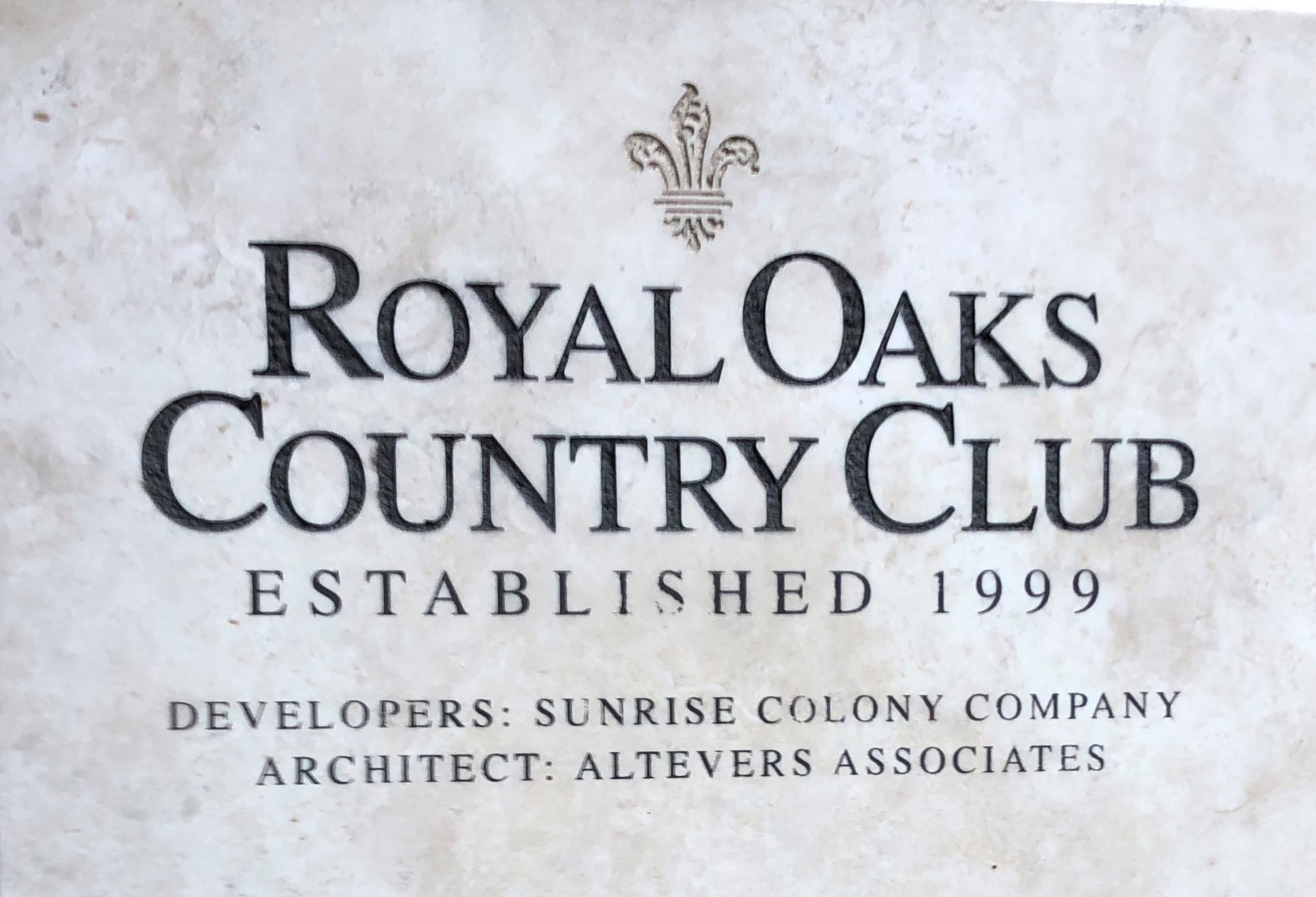 Established in 1999, Royal Oaks Country Club is a gated community club that maintains the distinction as being the first country club built within Houston city limits in over 50 years. In 2015, Royal Oaks Country Club became Member-Owned and since have been shaping the traditions and lifestyle to benefit the membership and future generations to come. This picturesque, beautifully manicured 185-acre property features Fred Couple's Signature Golf Course, sports complex, tennis and pickleball courts, aquatic facilities and multiple fine and casual dining options. Royal Oaks Country Club is surrounded by the lavish Royal Oaks Community providing a relaxing, fun and safe environment for adults and families
Members enjoy the 45,000-square-foot Clubhouse, nestled among the towering palm trees and lush landscaping, as the hub for all social activities. Elegantly designed, the Clubhouse features the main dining room (The Bistro), lounges, patios, conference room and several event spaces all with expansive views of the golf course and waterfalls. From the seven lighted tennis courts, to the golf course and facilities, pools, wine program, wellness center and youth activities, Royal Oaks Country Club offers a variety of amenities for all ages and interests.
Expectations – ROCC is looking for a solid culinarian to provide outstanding culinary experiences as well as an Executive Chef who will serve as a role model of compassionate leadership and exhibit an overall sense of caring about people. He/she should set the standard for employees to maintain a high-quality product and deliver consistent member services.
This individual should be an effective communicator who is mature and poised in dealing with conflict and feedback, has a reputation for team-building and exceptional culinary skills whether it's preparing comfort food or 'Michelin Star' cuisine.
The new EC will evaluate current operations and staffing and will provide recommendations for enhanced systems and controls leading to efficiencies and improved accountability in all areas – particularly communications, human resource management and employee development.
Initial Priorities:
Get to know the Membership – Establish relationships and learn and embrace member dining preferences and be willing to act on members preferences and requests
Get to know the Culinary Team and their strengths – Develop a culture of high standards and excellence. Build and motivate a strong culinary team; provide training, coaching and professional development opportunities for kitchen staff.
Update Banquet Menus – Evaluate menus and develop the culinary program with evolving menu programing that peak member interest in a la carte and member events.
Review Cost Controls and Food Cost – Evaluate all products and costs to ensure the Club is getting best value and quality.
Kitchen Maintenance – Ensure that the highest standards of sanitation, cleanliness, safety and security are maintained throughout all food service areas at all times.
Job Requirements:
The EC is hands-on and cooks or directly supervises the cooking of items that require skillful preparation.
Is self-motivated with ability to lead, inspire and mentor individuals throughout the food & beverage department including FOH.
A skilled communicator, professional and personable demeanor and approachable manner are important pre-requisite qualities.
Menu development and diversity (including Ethnic Cuisines) is important as the the Club has members from throughout the world.
The Chef develops the labor budget and expenses associated with the kitchen and purchasing. Works closely with AGM in preparation and presents to GM / CFO
The EC will actively engage with the membership through newsletter articles, cooking classes, walking the dining rooms and commentary at food related events. (The Club would like to see innovative ways for the Chef to reach the membership and promote the culinary offerings. Getting to know the membership is of high importance)
Has the ability to multi-task (juggle many tasks at once) while keeping an eye on the financials within the department.
The Executive Chef will participate in House, Social and Wine Committee meetings and at times.
Working knowledge of food and wine pairings is a plus.
Championship "Fred Couples' Signature Golf Course
Additional Information:
Annual food sales $1.8MM; Total F&B Sales $2.7MM.
Annual combined food cost 42% with a sales mix Sales of 45% A la carte and 55% banquet. (Food Cost Goal 40/42%)
There are 18 kitchen employees supported by an $640,000 labor budget.
The Club maintains two (2) Kitchens, Main and Palm Grille. Mgmt. rates kitchen as a 3 out of 5 and utilize a reserve study to plan replacements and upgrades.
The Club has two (2) Sous Chefs and is supported by a Purchasing Manager.
There is (1) one Clubhouse totaling 42,000 sq. ft. supported by 765 members whose average age is 56.
The Club is open 12 months annually and closed Monday's.
The EC will report to the GM or AGM (TBD) and work closely with the Clubhouse Manager, Director of Catering & Events, Beverage Manager and Golf Professional.
The previous Chef was employed by the Club for 10 years.
Dining Venues:
The Bistro – Semi-casual w/ 68 seats, serving Breakfast, Sat & Sun, Lunch, Tues – Sun & Dinner, Thurs – Sunday.
Bistro Lounge – Casual w/ 16 seats, serving Breakfast, Sat & Sun, Lunch, Tues – Sun & Dinner, Thurs – Sunday.
Bistro Terrace – Outdoor Casual w/ 30 seats, serving Breakfast, Sat & Sun, Lunch, Tues – Sun & Dinner, Thurs – Sunday.
Palm Grille – Casual w/ 100 seats, serving Lunch & Dinner, Tues – Sun, May through September.
Palm Grille Poolside – Casual w/ 48 seats, serving Lunch & Dinner, Tues – Sun, May through September.
Men's/Ladies Locker Rooms – serving Breakfast, Sat & Sun, Lunch, Tues – Sun & Dinner, Thurs – Sunday.
Private Parties – The Club offers five (5) Private Rooms that can accommodate from 13 to 300 guests.
The Club offers a generous compensation package including a base salary based on experience and skill, performance bonus based on agreed upon goals and objectives, health, dental & life insurance, 401k with match, dining allowance, ACF dues and convention plus other standard perks. Relocation allowance negotiable. The Club prefers a (CEC) Interested individuals should send resumes, a well-conceived cover letter, and supporting information (a digital Portfolio is encouraged) in strict confidence. Click Here to upload your professional information:
Interested?   Work with DMA, a team of proven culinary professionals to help advance your career. Click Here to upload your professional information: