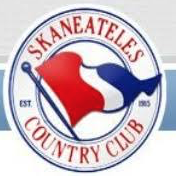 The Skaneateles Country Club was founded in 1915. The club is nestled on the shores of Skaneateles Lake of Central New York's Finger Lakes Wine Region. With crystal clear water, striking views and wonderful small town charm, Skaneateles has long been a favorite vacation getaway spot for everyone from U.S. Presidents to families from all over the northeast.
Today, the club is a thriving, and vibrant family of nearly 700 diverse members. Our beautiful golf course has been host to several U.S. Open and New York State qualifiers, hosted two New York State Junior Championships and was home to the first American-European PGA Junior Ryder Cup matches.
In addition to premier tennis and sailing opportunities – SCC boasts three restaurant outlets and multiple banquet facilities that can accommodate up to 220 guests.
The club is in operation nine months a year.
THE POSITION IS IMMEDIATE – The Club is seeking immediate qualified candidates for the position of Executive Chef. This is a year-round position (although the property is only open from April – December) to oversee the multiple food operations that are a major attraction for members and visitors.
The right candidate must possess the following skills & attributes:
Proven Leadership
Excellent Communication Skills
Creative Menu Planning
Track Record of Quality Food Production
A Team Player
The Ability to Effectively Train and Mentor Employees
A Consummate Professional
Responsibilities Include:
Hiring, Training, Scheduling
Budget Management
Efficient Operation of Restaurants
Menu Planning
Banquet Planning – Back of House
Representation to the Membership
Execution of Food Service
The position offers competitive salary, full benefit package, professional development, retirement plan, a performance bonus and relocation allowance.
This is a collaborative Executive Chef search campaign led by Harvest America Ventures' Principle and Founder, Paul Sorgule. Write Paul directly including your current Resume, References, Supporting information to Paul Sorgule psorgule@hotmail.com or paul@meyersassociates.com or Click Here to upload your information:
Interested?
Work with DMA and Harvest America, a team of proven culinary professionals to help advance your career.