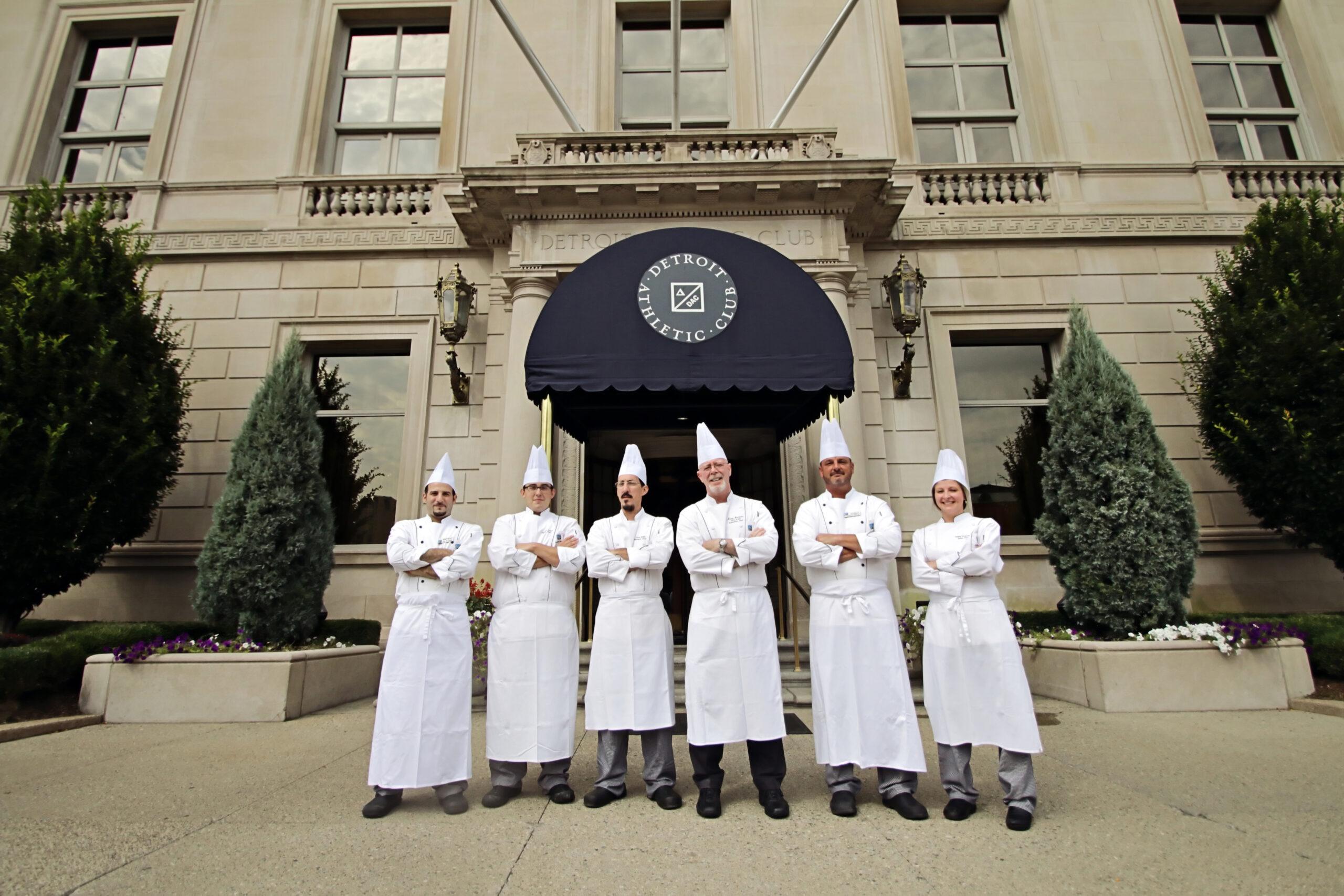 Founded in 1887, the DAC continues to play a major role in the history of Detroit and the great state of Michigan.  The original DAC clubhouse was designed primarily as an athletic center with a cinder running track, baseball diamonds, bowling alleys and full gymnasium. Many of the members of the original club would later be instrumental in the creation of the current Detroit Athletic Club.
The new DAC was born in January 1913, when 109 leading citizens of Detroit met at the Ponchartrain Hotel to sign articles of association and organize a framework of committees to start the club on its way.  The DAC is the #1 ranked Athletic Club is America.  Its culinary standards and service heritage rivals any 5-Diamond/Star hotel or resort or any private club foodservice program. Members today celebrate more than a century of strong leadership.   VIEW THIS VIDEO
Position Specific: The Detroit Athletic Club is tasked with replacing it's beloved "25-years of service" Executive Chef who is retiring at the end of the year. The Club is looking for an Executive Chef with experience in multi-outlet operations with similar volume. Has background and experience in very high-quality clubs/resorts/hotels. This individual has a track record as a coach & mentor. Management does not wish to "blow up" the current culinary program but only to maintain traditions while making immediate, incremental improvements where possible.
The Executive Chef needs strong cooking skills based on a solid foundation; understands traditional, classical and modern cuisines. Experienced in all aspects of the kitchen as evidenced with a strong resume. Skilled administratively managing personnel budgets along with accuracy in purchasing and maintaining food inventories and cost control.
Job Requirements:
Is self-motivated with the ability to lead, communicate to, inspire and mentor individuals throughout the organization.
The new EC will be passionate about food; is up-to-date with the latest food trends, ethnic cuisines and products and will have a strong understanding of, and be responsive to, organic, gluten free and other possible member requests.
Menu development diversity, changing integral parts of culinary culture through establishment of desired standards and clear expectations.
The Chef will work with the General Manager and Controller providing his/her input in the budgeting process and all financials relating to the kitchen operation.
The new Chef is expected to be the "Culinary Ambassador" and the "Face of all Foodservice" that communicates food culture and develops relationships with membership.
Competent in organizational and time management skills. Consistently demonstrates good judgment, problem solving and decision-making skills and can multi-task (juggle many tasks at once)
Working knowledge of food and wine pairings a must.
Critical Success Factors – As a measure of success, the new Executive Chef is expected to have achieved the following by the end of their first year:
Seamlessly integrated into the role of Executive Chef following the retirement of the long-time Chef. Assimilated the culture of the Club and staff in continuing the acclaimed excellence of the Detroit Athletic Club.
Member satisfaction with dining, as measured in member surveys, improved in 2021 compared to 2020.
Developed rapport with, and support of, the Executive Sous Chef, Executive Pastry Chef, Executive Steward, and Director of Catering, as well as other F&B management and staff.
Assisted the Executive Manager and Facilities Director with planning facility and equipment changes and improvements.
Maintained or improved measurable employee engagement levels according to the Employee Engagement Survey.
Recognized by members as the face of the Club's culinary program.
Additional Information:
The impressive 215,000 sq. ft. Clubhouse is supported by 5,100 total members of which 3,400 are full- privilege (voting) members.
29 guest rooms, 10 private suites
There are 400 Club Employees
Annual food sales $8 MM; Total Beverage Sales $4.5 MM.
Sales mix of 42% A la carte and 58% banquet.
Athletic and over Facilities and Member Services Include:
Four single squash courts, one double squash court, three handball/racquetball courts and a basketball court
Men's and Women's full-service Locker Rooms
4,400 sq. ft. fitness center with 13 Personal Trainers; 47 fitness classes per week
Bowling Facility (10 pin, eight lanes)
Spa Treatment Rooms (1,000 sq. ft.)
Indoor running track
Access to summer golf league and outings
Extensive options of clinics and lessons for squash, bowling, swimming, basketball
Parking Garage with 760 spaces, car wash, gasoline service
Business Center, Barbershop/Salon and Tailor
210 personal cigar humidor lockers
Dining and Event Venues:
The Gallery and The Fresco Dining Rooms with seating of 200 guests
The Stadium Club, Casual Dining with seating of 150 seated + Terrace
The Abbey, Seasonal DR seating 70
Madison Café, seating 20
Main Dining Room, Ballroom up to 300 guests
Ponchartrain Room, up to 70 guests
Georgian Room, Ballroom, up to 70guests
Tap Bar, Casual Bar, 50+
Last Word Cigar Bar, 30 + Terrace
The Club offers a generous compensation package including a base salary based on experience and skill, performance bonus based on salary & tenure, health, dental & life insurance, 401k with match, dining allowance, ACF dues and convention plus other standard perks.  Relocation allowance negotiable.
Interested individuals should send resumes, a well-conceived cover letter, and supporting information (a digital Portfolio is encouraged) in strict confidence.   Click Here to upload your information:
Work with DMA, a team of proven culinary professionals to help advance your career.