Ocean Forest Golf Club: The Ocean Forest golf course (ranked #84 in the world) is located on Sea Island. Although Sea Island is a resort, the Ocean Forest course is private and you must play with a member. The course was designed by the Harvard-Yale educated Rees Jones and opened in 1995. It hosted the Walker Cup matches in 2001, the youngest course to do so. Although Rees has modified or renovated many U.S. Open courses, Ocean Forest is his only course ranked among the world's top 100 courses.
Ocean Forest is a pretty private and most people are even unaware of its existence. To get into the Sea Island resort you have to go through a main gate, which you can do if you are staying at the resort or playing one of the resort courses. Once inside the Sea Island enclave, to get into Ocean Forest you have to go through a second gate, after driving several miles down to the tip of the island. The entrance only says 'Private' and there are no signs that say Ocean Forest. Indeed it is a very special place.
Position Specific: The culinary experience at Ocean Forest has lost its identity in recent years and currently suffers from low membership confidence. The next Executive Chef will rise to the task of restoring confidence and working to make Ocean Forest a highly refined, attention to detail culinary destination in the area and among the best in the private club industry.  In doing so, it is essential that the next executive chef has proven leadership qualities and ability to develop and build a strong team. Becoming the Face of the Program and striking professional relationships with membership is a must.
Private club industry experiences are preferred but not a must. So long as the candidate conducts business sensibility, exudes hospitality along with possessing a genuine willingness to accommodate simple requests.  In depth culinary understanding, a team leader, results-oriented, ability to think on feet and an excellent communicator/promoter are key qualities.  The Club has a Single owner and position reports to the General Manager.  The common goal of the entire club team is to always deliver a highly personalized experience to the membership and their guests.
Job Requirements:
The Executive Chef has a strong work ethic and will be actively engaged in the entire F&B operation.
Organized and detail-oriented without an ego driven approach.
The ability to lead, motivate and mentor aspiring individuals throughout the organization. Have the ability to train staff.
Must be a team player who leads by example.
Implement's safety training programs and related aspects of kitchen safety.
Competent in organization and time management skills.
Positive, can do attitude. Proven team builder; outside the box thinker. High expectations of himself/herself as well as the team.
Hospitality motivated with service heart. Initiates, builds, prepares, implements and changes on an ongoing basis station booklets, recipes, guidelines and standards for all food served.
Key Expectations and Goals:
The successful candidate will be a committed leader able to develop a strong culinary team and maintain a positive Team Spirit.
The executive chef will be highly involved in the budgeting process, and will be responsible for benchmarking in relation to private club culinary industry.
He/she will also be a significant part of growing the revenue line in collaboration with the clubhouse manager.
Executive chef will be active in promoting culinary through the newsletter as well as walking the dining rooms.
It is important that the Executive Chef is visible to membership, making a relationship link in order to become the Face of the Culinary program.
The Executive Chef will work in tandem with the clubhouse manager in executing member events.
Ensures that high standards of sanitation, cleanliness, and safety are maintained throughout all kitchen areas at all times.
The Executive Chef would play a big part in constructing long range plan regarding maintenance and capital improvement.
 Additional Information:
Annual food sales at $1M; Total F&B Sales $1.7M. The Club subsidized Food & Beverage service by $500,000 most fiscal cycles.
The Food cost is currently 38% with a goal of 35%.
There is a culinary team and $490,000 labor budget.
The Executive Chef is supported by 1 Sous Chef; the Chef does the purchasing.
The Club maintains (1) Kitchen that is in good working order; Clubhouse and kitchen improvements are currently being studied.
The Club is supported by 380 members whose average age is 65.
The Club operates twelve (12) months annually while maintaining a year-round staff; Usage decreases between Memorial and Labor Days with exception of the 4th of July.
The Executive Chef reports to the General Manager and works closely with the Clubhouse Manager, Assistant Clubhouse Manager/Sommelier, Golf Professional, and Golf Course superintendent.
This is a Relationship position!
Living Room
Dining Facilities: (Four (4) ala carte dining outlets)
Dining Room – formal serving dinner only four nights per week. 80 seat capacity.
Bar – a casual dining room that serves breakfast, lunch and dinner six days per week. 32 seat capacity.
The Locker Room – a casual area serving breakfast and lunch six days per week with 28 seating capacity.
Tea House – a snack shack that serves lunch.
Private Parties – The Club has three (3) Private Party Rooms and can accommodate up to 300 guests for a seated dinner.
Lodging – The Club has (7) seven rooms available to members and their guests. Room Service unavailable.
Salary and Benefits
The Ocean Forest Golf Club and Sea Island Resort is highly regarded for development and retaining a solid team, making this a highly desirable position. This position is viewed as a best in class position and requires true leadership and maturity becoming of 5-Diamond standards.  As such the right professional must be dedicated to career, craft and as a leader.  The position will offer a comprehensive package which includes a performance incentive and excellent benefits.  If you are interested in joining a dynamic team of culinary professional in an exceptional culinary culture, innovation and foodservice standards, send us your resume along with a note.
Work with DMA, the industry leader and respected team of proven culinary professionals to help advance your career.   Upload your resume, which may also include a cover letter and supporting information including menu examples, pictures, personal website, etc. at https://meyersassociates.com/resume/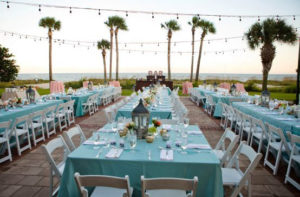 The Ocean Forest Golf Club on Sea Island recently received a 5 Star rating for the "Best Place to Get Married" on the Island.